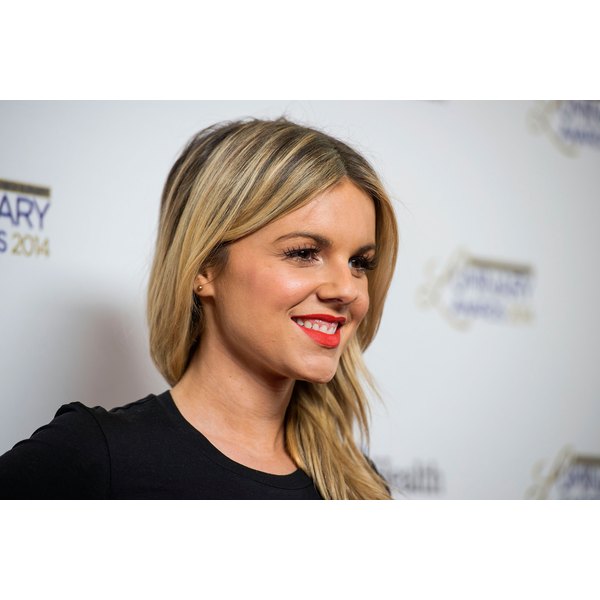 Ali Fedotowsky is proud of her post-pregnancy body — loose skin and all. In her "most vulnerable post on Instagram ever" the former "Bachelorette" strips down and gives fans an honest look at how having two children has changed her physical appearance.
"I've gone back-and-forth 1 million times in my head on whether not I wanted to post it," she wrote about her big reveal. "But at the end of the day, I know it's important to be open and honest about my postpartum body in hopes that it helps even one person out there who is struggling with their own body image."
The reality star shared three photos of her bikini body, highlighting the changes. "If you swipe to see the second photo in this post, you see that my body has changed," she said. "My skin around my stomach is very loose and stretched out, I'm 15lbs heavier than I used to be, and my cup size has grown quite significantly." Instead of being ashamed about her transformation, she states that she is proud of her body that is "beautiful, strong, and loved" — and we couldn't agree more!
In an accompanying blog post, Fedotowsky delves deeper into why she decided to share the revealing photos with the world, explaining that she was motivated by the many comments from fans about how she bounced back to her pre-pregnancy body so quickly. While appreciative of the positive feedback, she admits a knack for choosing figure-flattering clothes has a lot to do with it.
"My body has changed in many ways, but I think my biggest insecurities lie around my stomach and my chest. I definitely have a pouch of belly fat that wasn't there before I got pregnant with Riley and the skin around my stomach is extremely loose. I can grab a fistful of it with my hand and stretch it out. It's the weirdest thing!" she confessed. "Sometimes I wonder if it will ever go back to normal. Maybe it will, maybe it won't. Either way, I'm learning to be kinder to myself every day."
Post-baby bodies come in all shapes and sizes, and it isn't uncommon for new moms to be left with sagging belly skin. While some may find that their skin tightens shortly after giving birth, others can take nine months or longer to firm up, and many may find their belly skin never regains elasticity.
New moms aren't the only ones who deal with loose skin on their bodies. Others prone to the condition include those who have lost a lot of weight very quickly, whether because of a medical procedure or natural reasons such as aging.
However, there are ways to encourage the firming up of loose skin. One of them is drinking plenty of water and staying hydrated, as it prevents skin dryness. Another is eating lean sources of protein, fruits and vegetables that promote the production of collagen and elastin — two structured proteins that help build and support skin elasticity. Increasing lean muscle mass with resistance exercises is also important, as you can improve the appearance of loose skin by "filling out" with muscle mass.
And finally, making sure to protect your skin from sun damage is key, as prolonged sun exposure reduces moisture, which can loosen the skin. For women whose skin never regains elasticity, plastic surgery is another option, but experts suggest waiting two years before considering going under the knife for loose skin.
"I'm learning to love my body and embrace how it's changed," Fedotowsky continued on her blog. "I hope I get back to my pre-pregnancy shape one day, but that may never happen. And if it doesn't, that's OK." Is all this self-love giving you goose bumps? Because we are covered in them.
Fedotowsky deserves lots of love for being so brutally honest about her post-baby body, because let's face it — most women don't "bounce back" to their pre-pregnancy bodies — and that's totally okay. Whether left with stretch marks, saggy skin or extra weight, a woman's body is beautiful no matter what, and should be celebrated for all of its life-creating glory!
What Do YOU Think?
Are you inspired by Ali Fedotowsky-Manno's super vulnerable Instagram post? Did your body change after having children? How have you learned to love your body, despite physical changes?