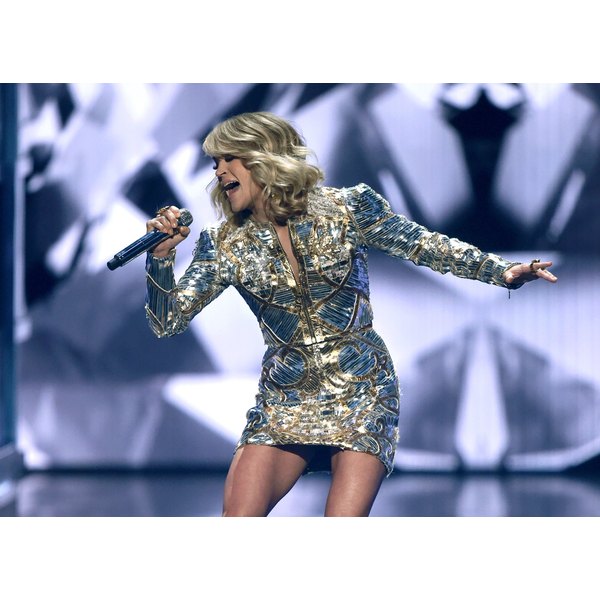 Whether she's performing in front of thousands of fans, running after her 3-year-old son, Isaiah, alongside husband Mike Fisher or serving as lead designer for her athleisure brand, CALIA, country superstar Carrie Underwood is an absolute go-getter — and she shows no signs of slowing down.
To share just how she maintains a healthy lifestyle and gets those toned legs, the 35-year-old musician spoke exclusively to LIVESTRONG.COM about her most useful diet tips and tricks as well as why she created a line of fitness apparel specifically for women.
What Carrie Underwood Eats
To consistently feel her absolute best, Underwood has been an avid calorie counter for years, crediting LIVESTRONG.COM's MyPlate app to help her stay on track.
"I am a regimented eater, and it's really important to me to know how much I'm eating to fuel my body," she says. "I've kept food journals for many years now, and it's so helpful when I'm traveling and eating at restaurants — I can quickly look up nutrition info, which is so great. I definitely feel so much better when I'm paying attention and tracking what I'm eating."
As for her meals, the singer, who follows a strict vegetarian diet, tries to avoid dairy as much as possible, but admits it can be hard while traveling. "For breakfast, I love to make myself a tofu scramble with chopped peppers, onions, some salsa and toast," she says. At lunch, the singer opts for a sandwich to keep her going strong. "I use vegetarian meat and avocado to fill me up."
To end her day, Underwood sticks with veggies, prepared a number of different ways. "I'm always roasting vegetables, making sweet potatoes, veggie burgers or spaghetti squash," she says. "I'm definitely an advocate for eating healthy but staying full — that's why I always have snacks on me — because I hate being hungry! Roasted chickpeas are also one of my favorite snacks."
And while she may eat clean most of the time, Underwood is all for indulging every now and then. "I always try to eat healthy, but, you know, I'm going to enjoy myself too," she says. "I work hard, so I know that I can cut myself some slack, especially when it comes to carbs. I love pasta with a nice glass of red wine at dinner with my friends. When those occasions come up, I like to just live in the moment."
Inside Carrie Underwood's Workouts
Despite living a relatively hectic lifestyle, Underwood makes it a top priority to exercise, no matter how busy her schedule gets. "I typically focus on strength training with cardio where I can work my entire body," she says. "I love toning my arms and legs with a variety of squats, lunges, pull-ups and planks."

The singer, who has been open about her struggles with panic attacks in the past, says working out is a way to reduce stress in her everyday life. "Being active and holding myself accountable helps me work towards being my best self," says Underwood. "I want to make sure I'm always taking care of my body because, at the end of the day, that's what keeps my mind healthy and makes me the best mom I can be for my son."
But if she doesn't have time to squeeze in a workout, she doesn't panic. While fitness is key for her overall well-being, Underwood isn't one to get down on herself for missing a day in the gym, and she encourages others not to, either.
"Don't beat yourself up! I used to have a pretty strict workout schedule. But my life has changed, and now exercising only happens whenever I can squeeze it in," she says.
"I'm really OK with that because I know when I get to the gym that I'm going to feel good, even if I don't have a full hour to commit. I'm personally a huge fan of making the most of the time I have, especially when I'm on the road. You can always do something to get a quick sweat in, even if it's 20 minutes of running or lifting weights!"
Carrie Underwood's Clothing Line
With health and wellness playing such a critical role in Underwood's everyday life, it was only natural for the country star to create her own brand of athleisure apparel, CALIA, designed specifically for women. The versatile line, which features everything from performance leggings to on-trend tops and sports bras, makes it simple for women to transition from their workouts to everyday life.
"As someone who is passionate about health and fitness, I noticed that there was a gap in the market for women's workout apparel that was both fashionable and functional," she tells LIVESTRONG.COM.
"When we were in the planning process for this line, the main priority I had was to help women feel strong and confident while working out, running errands or meeting up with friends. I'm really proud of what we've accomplished with this brand. It's a line that is made by women, for women."
Underwood says she is very hands-on during the design process, making sure that each and every detail of her clothing serves a purpose. "In design meetings, what our customers say they want is top of mind for me," she says.
"I love going through social media and reading consumer feedback with the rest of the design team: We make decisions based on what they want. Making small additions and adjustments to our clothing, like pockets that are big enough for your phone, can really make all the difference."
One thing is for certain: If anyone knows how to make getting in the gym a bit more enticing, it's Underwood. Getting fit while looking good? Yes, please!