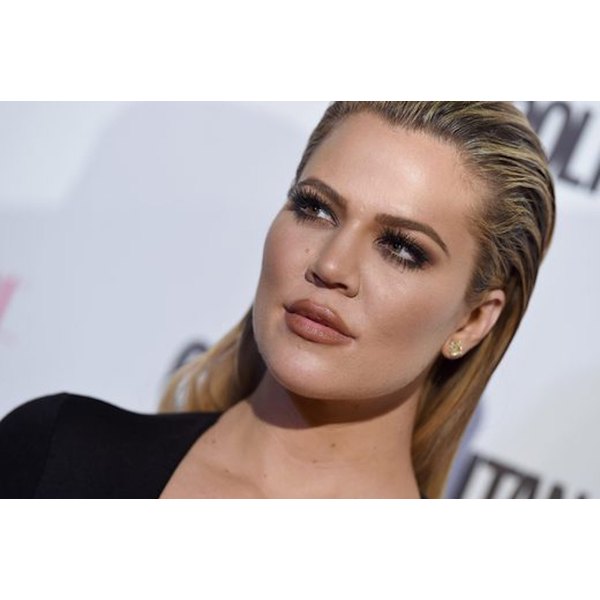 Khloe Kardashian is officially back in the gym, but don't expect her to see her going full "beast mode" (as she likes to call it) just yet!
Since giving birth to her daughter, True Thompson, last month, the 33-year-old mom has been working out with her personal trainer, Joel Bouraima — AKA Coach Joe — in Cleveland. And while she's eager to get her post-pregnancy body back, the reality star is easing herself into her fitness routine one day at a time.
Coach Joe has been working with the Kardashian-Jenner clan for years, and says that while Khloe is determined to get back to her pre-pregnancy strength, she knows patience is key. "She's listening to her body, and whatever her body can do, we do," he says. "She'll be back soon. She's already had crazy progress since we've started."
So exactly what are Khloe's training sessions like? LIVESTRONG.COM spoke exclusively with Coach Joe, who broke down just how she's getting back into her fitness routine.
Taking Things Slow
While getting back in the gym was one of Khloe's biggest goals after giving birth, she's being careful by taking things slow. "The first two weeks haven't been about losing weight or getting her body back," Coach Joe explains. "What I want for her to do is to just feel her body again. During a pregnancy, your body goes through a lot — your body changes a lot and your mind changes — so now let's regain some of that control. Let's feel some new feelings that you haven't felt over the past nine months. After that, then we'll start to really work out."
Coach Joe says that when it comes to the first few weeks of working out after delivering a baby, it's important not to push yourself too hard. "It makes no sense to push someone hard right after a pregnancy," he says. "Let's wake the body up instead. That's what Khloe's doing. For the past two weeks it's just been about waking the body up."
Simplicity Is Key
While Khloe's former fitness routine incorporated intense cardio and heavy lifting, Coach Joe explains that, at least for the time being, those exercises aren't part of her plan. "We're working out in Khloe's home gym since we don't need a ton of weights or equipment yet," he says. "I trained Kim [Kardashian West] after she had North in 2013, and back then we had even less equipment in Kris [Jenner's] car garage. After a pregnancy, you don't need a crazy gym to get back in shape."
As for the exercises he has Khloe doing, there's nothing too extreme. "If we are using weights, they're light weights with a lot of reps. It's mostly body weight with bands and a treadmill, and that's enough. I don't go really high with intensity, at least not yet."
In regards to how many times a week Khloe is working out, Coach Joe reveals that while they aim for six workouts a week, there isn't a huge emphasis on time. "The workouts can be anywhere between 30 minutes to an hour and 15 minutes each, and we're not targeting areas," he says. "I'm not saying, 'OK, today is upper body and tomorrow is lower body, and we're doing an hour workout.' Instead, she's listening to her body, and whatever her body can do, we do."
Low-Carb Diet
When it comes to Khloe's eating, Coach Joe says that the reality star is sticking to a low-carb diet, unless she plans on doing an long workout. "We try to avoid carbs for the most part," he reveals. "Otherwise, she really has her diet down. When we work out early, she usually has a protein shake right when we've finished. She'll eat turkey with sweet potatoes or a salad for lunch. Sometimes we work out twice, so those are the days when I like for her to eat more carbs."
As for dinner, Khloe is just as healthy with her meals, but Coach Joe says he is totally fine with her splurging in moderation. "At night, Khloe tries to eat as early as possible and with no carbs. Once we're really in the swing of things, then the diet will be the big focus and it'll get more strict. But right now I don't want her too focused on what she's eating, especially after just giving birth."
Beast Mode Will Come!
If you follow Khloe on social media, you are more than familiar with seeing her go full beast mode in the gym. But Coach Joe reveals that they aren't in any hurry to get back there.
"I try to avoid giving her a deadline for when she'll reach her goal. That's just not the way I work," he says. "It makes no sense to hurry and speed up the process because you'll just make things worse. When I can push her, I will, but right now she's just enjoying the workouts. Right now, she is just starting to fall in love with fitness again. She's like, 'OK, Joel, let's go. I can do this again.'"
As for what Khloe's workout routine looks like once her body is stronger, Coach Joe says things are going to get intense. "Once we go full beast mode, it's going to get crazy," he laughs. "I try to train her like an athlete. It's not just about leg curls and biceps curls. We're talking about endurance, we're talking about lifting weights, we're talking about cardio at the highest level."