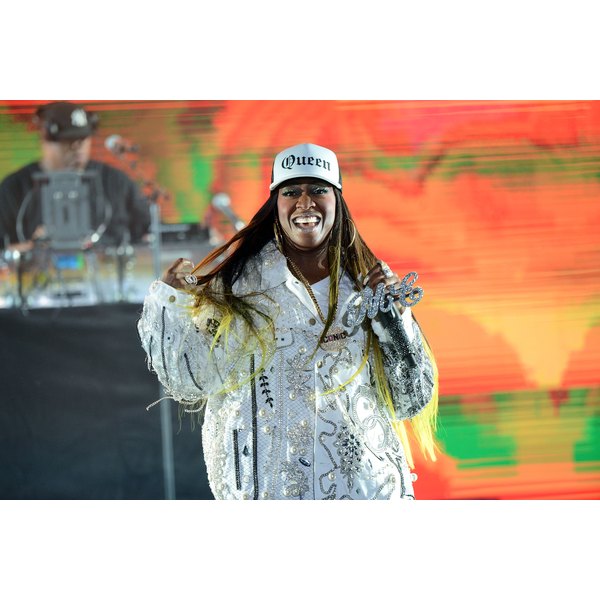 Missy Elliott showed off her seriously glowing complexion this week, attributing her sensational skin to her bread-free, soda-free and juice-free diet.
"You are what you eat" is one of those old sayings that will never go away, with many experts attesting to its truths — especially when it comes to skin health. The 46-year-old rapper is clearly a believer, as evidenced by the way she recently overhauled her diet. Just four months into her new-and-improved healthy eating plan, Elliott is already reaping some major skin benefits.
"Proudly to say it's been 4 months I have only drank water no other juices or soda & I cut out bread & Lord knows that's been the hardest for me!" she wrote about her modified diet in an Instagram post. The "Work It" singer admits she has "NEVER been a water drinker," but she has clearly hopped on board the water wagon. "It really restore glow back & I don't feel sluggish," she wrote.
Despite modifying the beverages she is consuming and cutting out bread, she is having a hard time giving up another guilty pleasure: junk food, which she declares is her "weakness." However, she is feeling quite empowered by the major changes she has already made. "But if I can give up those other things I'll fight that too!" she added. Her compromise? "Maybe two cupcakes a month."
According to Ashley Koff, RD, who has worked with Hollywood actresses and Olympic athletes, soda (packed with either sugar or artificial sweeteners, coloring and flavorings as well as excess caffeine), gluten-rich bread and sugary fruit juice are amongst the worst offenders for your skin.
Why? Sugar has the ability to weaken our immune systems, and when this happens our bodies aren't as effective at fighting off bacteria — a leading cause of acne and other inflammatory skin conditions. Excess caffeine can increases cortisol (the stress hormone) levels in our bodies and can accelerate the aging process and damage our skin.
When it comes to gluten, Koff points out that up to 40 percent of adults have some sort of gluten or wheat sensitivity. "When we have inflammation in our bodies, it often shows up in our skin," Koff says, "and when my clients reduce their gluten intake, there is almost always a marked improvement in their complexion and overall health." So, yeah, all of the items Elliott opted to omit from her diet are likely responsible for her skin-sational (sorry, we had to) makeover.
Kudos to Missy Elliott for taking charge of her skin health and reminding us how important good nutrition and hydration is!