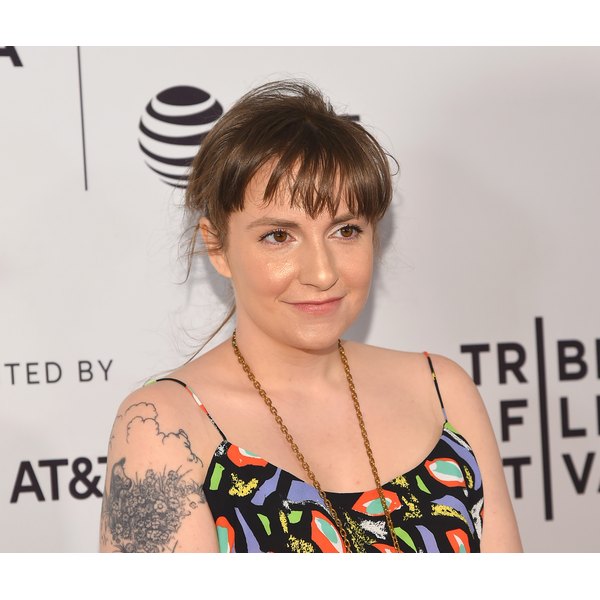 Lena Dunham isn't known for being shy, especially when it comes to her body. The actress and writer just penned a revealing article for the March issue of Vogue, chronicling her most recent struggles with endometriosis and her decision to have a hysterectomy.
In 2015, Dunham first opened up about having endometriosis, a disorder in which tissue that is supposed to grow inside the uterus grows outside of it, leading to swelling, scarring and severe pain. (It is estimated to affect 1 in 10 women between the ages of 15 and 49.) In a post on Lenny Letter, Dunham revealed that she suffered for years — ever since her first period — before finally getting a diagnosis.
Less than two years later, in early 2017, Dunham had a surgery to separate her ovaries away from her rectal wall. (The two had grown together as a result of her endometriosis.) At the time, Dunham sounded relieved. Hopeful. She wrote that she was disease-free, adding, "That doesn't mean it can never return, but for now, once my sutures have been removed and my bruises have changed from blue to yellow to green to gone, I will be healthy."
Her optimism was short-lived. Within a month, she shared that "more disease was found in deeper spots," and her saga continued. Until now.
Despite a long-held desire to have a baby, Dunham, 31, chose to have a hysterectomy in which both her uterus and cervix were removed. Detailing her experience in Vogue, she writes about her futile attempts to manage the pain in the months before the surgery: "I go to pelvic-floor therapy, massage therapy, pain therapy, color therapy, acupuncture, yoga and a brief yet horrifying foray into vaginal massage from a stranger. I am determined to outmaneuver whatever is eating me from the inside."
But the pain is unbearable. The solutions ineffective. So she writes that, "I check myself into the hospital and announce I am not leaving until they stop this pain or take my uterus."
It's a 12-day stretch before this will happen. "The doctor needs evidence he is operating on someone resolved enough to give consent and never take it back," according to Dunham.
While in the hospital, she composes an essay about just how resolved she is: "'I know that a hysterectomy isn't the right choice for everyone,' I write, 'that it's not a guarantee that this pain will disappear, and that you are performing it due to your deeply held, essential and — to my mind — feminist belief that women should be able to make a choice about how they want to spend their childbearing years.'"
The essay is convincing, but before her hysterectomy, there's one more procedure — a final, last-ditch effort to treat her endometriosis and save her uterus — which ultimately fails.
On the day of her surgery, the one that will likely render her unable to bear her own children, Dunham admits, "I want to cry so badly, but I know it's not welcome here. My sobbing could easily be seen as doubt and reverse it all. I am already mourning, but I am not in doubt."
It has been a few months since the hysterectomy, and Dunham is candid about her recovery. While her body is healing well, "My mind, my spirit, are another story," she writes. "Because I had to work so hard to have my pain acknowledged, there was no time to feel fear or grief."
So Dunham mourns her loss, but maintains a sense of hope. "Soon I'll start exploring whether my ovaries, which remain someplace inside me in that vast cavern of organs and scar tissue, have eggs," she writes, adding that, "Adoption is a thrilling truth I'll pursue with all my might."