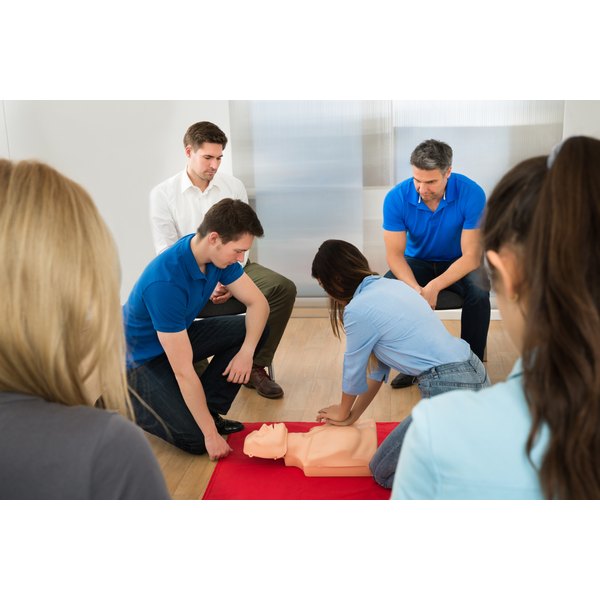 The ability to respond in an emergency situation is critical in saving lives. CPR is a valuable tool for people in the workplace, health care settings and in the community. According to the American Heart Association (AHA), 80 percent of people who suffer from cardiac arrest experience the event at home. Working knowledge of CPR skills can double survival rates in emergency situations. The AHA offers a variety of training programs to suit the needs of any individual hoping to learn to properly perform CPR.
Workplace Training Programs
The AHA provides training options for the workplace in CPR, AED and bloodborne pathogens. Small business owners, Fortune 1500 companies in industries such as security and law enforcement agencies, health and fitness facilities, colleges, hospitality professionals, and childcare providers can take advantage of these programs on-site as well as online. Bilingual classes in Spanish are also available.
Health Care Professional Training Programs
There are four types of training offered for health care professionals: Advanced Cardiovascular Life Support (ACLS), ACLS experienced provider course, Basic Life Support (BLS) Healthcare Provider and Pediatric Advanced Life Support (PALS). ACLS is for providers who direct or assist in resuscitating a person in a hospital or other setting focusing on integrating BLS and ACLS skills and team work. The length of the course is approximately 13 hours. ACLS Experienced Provider courses are designed to renew certifications for those who already have been through the initial training phase. BLS teaches the basic skills of CPR to practitioners along with choking and AED training. This course is about 4 hours in length. PALS instructs practitioners in administering CPR to infants and children specifically for pediatricians and those involved in medical care of children. The total course time is estimated at 14 hours.
School-Based Training Programs
The AHA has created a program for middle and high school students called Heartsaver in Schools. The curriculum teaches basic CPR skills, choking resuscitation and AED use. The class is taught in a multimedia format using manuals and audiovisual material. Academic credit is awarded for this course along with a CPR certification card.
Community-Based Training Programs
Since most cardiovascular and other emergencies occur in the home or community setting, these courses are a vital part of the training curricula at the American Heart Association in creating a broad network of responders. Family and Friends CPR classes are geared for family and community members who wish to learn adult and child CPR skills. This class is designed for group instruction. The Family and Friends Anytime program is a self-directed program with a teaching tool kit for home instruction.
Testing and Certification
On-site training programs offer the test at the end of the training in order to receive your CPR certification card. Self-directed programs do not provide certification in CPR. Periodic recertification is required to maintain valid American Heart Association CPR-certified status.