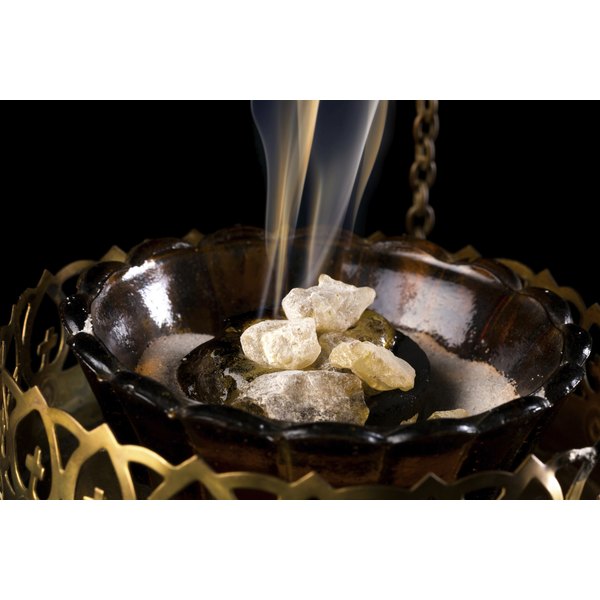 Frankincense essential oil, or Boswellia carterii, has been used for centuries for both its spiritual and its medicinal properties. Frankincense was one of the gifts the three wise men brought to Jesus at his birth, and the story demonstrates that its value was regarded as highly as that of gold. Says Jennie Harding in the Essential Oils Handbook: "Frankincense is non-toxic, non-irritating and non-sensitizing, so it is safe for all skin types."
Frankincense for the Mind and Spirit
Frankincense is regarded by aromatherapists as a base note, which classifies the oil has having a deeply penetrating and lasting scent. In the creation of a blend, it is used to fix the other scents and to bind the blend together, steadying more volatile oils, and prolonging the life of the blend. It raises low self-esteem and calms anxiety.
To use the oil in meditation, add four drops to a vaporizer. As you inhale the oil, it helps to slow down and deepen the breath which in turn brings a sense of peace, restores balance and opens the mind, increasing awareness and spiritual understanding. It is also thought to help the release of past traumas, helping someone coping with grief to 'let go' and come to terms.
Frankincense for the Skin
Frankincense oil is known to improve skin tone, heal cuts and grazes and infected skin. When combined with rose oil in either a cream or a carrier oil, it is extremely beneficial as a treatment for dry skin, or mature or wrinkled skin. It also helps to lessen the appearance of scarring. A good blend of oils for mature skin is four drops of frankincense blended with two drops of rose otto and four drops of neroli in 30 ml of sweet almond oil. Massage a small amount lightly into your face each night to get the best benefit.
To heal a wound and encourage healing, blend four drops of frankincense with two drops of myrrh and four drops of manuka in 30 ml of sweet almond oil. This blend will particularly help to combat any infection, and to dry up any wet or weeping wound--though care should be taken if applying it to an open wound.
Frankincense for the Respiratory System
Frankincense, according to Esoteric Oils, "clears the lungs and helps with shortness of breath, asthma, bronchitis, laryngitis, coughs and colds." To ease the symptoms of any of these, either add eight drops to a warm bath, or inhale four drops from a bowl of very hot water for ten minutes.
Frankincense is very helpful during an asthma attack as the sufferer may well feel panicky and start to breath faster. The calming effect of frankincense on the breath will help to slow and deepen the breathing, thus bringing relief.
Like all essential oils, frankincense is not intended for use as a substitute for medical care, but as a complement to it.