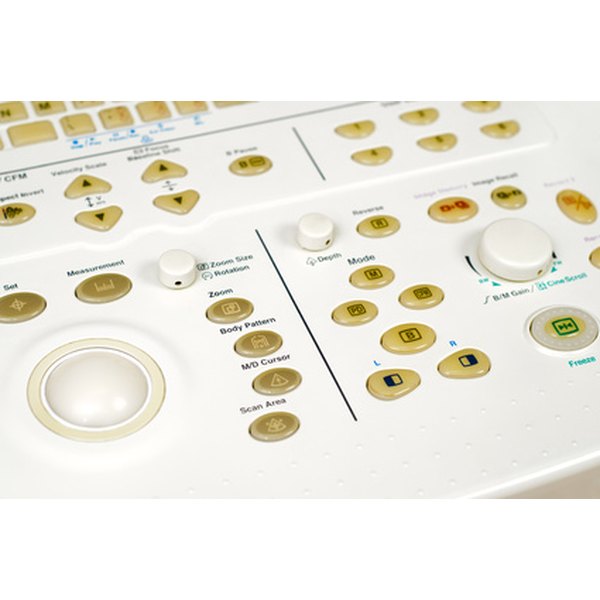 Before the advent of routine ultrasound in pregnancy, medical personnel estimated a baby's due date by the date of the last menstrual period and by feeling the uterus and determining the size to see if it matched the given due date. With transvaginal ultrasound, checking for embryonic development known to occur within a certain time frame more accurately dates a pregnancy. Transvaginal ultrasound can see embryonic development about a week before transabdominal ultrasound, the American Pregnancy Association (APA) states.
Process
A transducer, a wand-shaped probe, is inserted into the vagina and pressed against the vaginal walls directly next to the uterus. It records high-frequency sound waves that create an image (see Reference 4). Normally, ultrasounds before until week 4 of pregnancy shows nothing in the uterus and serve no purpose. Pregnancy is dated from the first day of the last menstrual period, so at four weeks, a woman is just due for a menstrual period.
Gestational Sac
At 4.5 to 5 weeks, a gestational sac may be seen in the uterus using transvaginal ultrasound, Joseph Woo, M.D., explains in "Obstetric Ultrasound: A Comprehensive Guide". Seeing the gestational sac, which looks like a black dot in the uterus, has several benefits: it confirms that a woman is pregnant, confirms that the pregnancy at a very early stage, making dating the pregnancy very accurate, and also confirms that the pregnancy is in the uterus rather than ectopic, or outside the uterus. A yolk sac, the early source of nutrients for the embryo is seen around 5.5 to 6 weeks. The embryo still can't be seen at all at this early stage.
Fetal Pole
By 6 to 7 weeks, it's usually possibly to see the fetal pole, the earlier sign of the developing embryo, within the gestational sac on transvaginal ultrasound. If the gestational sac reaches 16 to 18 millimeters and no fetal pole is seen, the pregnancy may be abnormal, according to the APA. Once the fetal pole is seen, the crown-rump length (CRL) of the embryo can be measured. The CRL is extremely accurate, Dr. Woo says. Later measurements that don't reflect the date given by an early CRL means the pregnancy isn't growing normally, not that the early CRL was wrong.
Fetal Heartbeat
Once the CRL reaches 5 millimeters, the heartbeat should appear, the APA states. This occurs normally between 6 and 7 weeks of pregnancy. Failure to see the heartbeat at this stage may indicate an abnormal pregnancy. The early fetal heart normally beats between 90 to 100 beats per minute. A positive fetal heartbeat at this stage indicates a 95 percent chance that the pregnancy will proceed normally, according to Dr. Woo.
Reliability
Early transvaginal ultrasound, the most reliable way to determine a pregnancy due date, can date a pregnancy within a few days and is more accurate than determining a due date by the date of the last menstrual period.