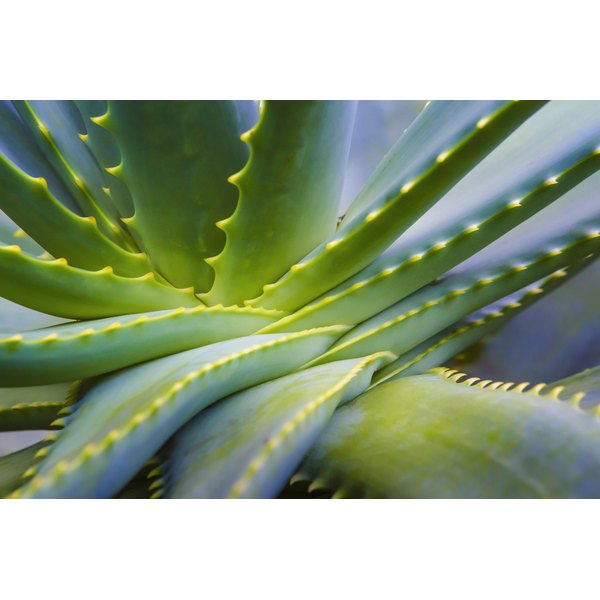 Having high cholesterol can increase your risk for other health conditions, such as stroke and heart disease. Changing your diet and getting more exercise can help lower your cholesterol, as can taking certain prescription medications. Although the evidence is still preliminary, some herbal remedies may also help lower your cholesterol.
Aloe Vera
A study published in "Planta Medica" in 2012 found that diabetics with high cholesterol who took 300-milligram capsules of aloe vera twice a day for two months along with their diabetes medications lowered both their total and low-density lipoprotein cholesterol without experiencing any significant adverse effects. MedlinePlus notes that people taking 10 to 20 milliliters of aloe per day may lower their cholesterol levels by up to 18 percent and their triglyceride levels by up to 30 percent. Don't use aloe products made with the whole leaf, as these contain aloe latex and may cause adverse effects, including kidney and heart problems and muscle weakness.
Blond Psyllium
Taking 10 to 12 grams of blond psyllium per day with your meals as part of a low-fat diet for at least seven weeks may lower your total cholesterol by up to 14 percent and your LDL cholesterol by up to 10 percent if you have mild to moderately high cholesterol, according to MedlinePlus. Blond psyllium tends to have greater cholesterol-lowering effects in people under 60 than in older people. This supplement may interfere with certain medications, including blood thinners, diabetes medications, lithium and carbamazepine.
Red Yeast Rice
People who can't tolerate statins may be able to use red yeast rice to reduce their cholesterol. A study published in "Annals of Internal Medicine" in June 2009 found that people taking red yeast rice supplements lowered their total and LDL cholesterol more than those taking a placebo without any adverse effects on their beneficial high-density lipoprotein cholesterol levels or increases in pain.
Green Tea
Drinking green tea may help you get your cholesterol levels under control. An article published in the "Journal of Nutritional Biochemistry" in March 2007 notes that green tea and beneficial substances it contains called catechins may limit the absorption of fats and cholesterol in your body, potentially helping you lower your cholesterol levels.
Hawthorn Fruit Extract
A preliminary study published in 2009 in the "American Journal of Chinese Medicine" found that mice fed a high-cholesterol diet that were given hawthorn fruit extract experienced decreases in their LDL cholesterol, total cholesterol and triglycerides compared to mice fed the same diet without hawthorn fruit extract. Further research is needed to verify whether hawthorn fruit causes a similar effect in people.
Fenugreek Seeds
Fenugreek seed powder is another potential herbal treatment for high cholesterol. Diabetics with high cholesterol given 25 milligrams of fenugreek seed powder twice a day experienced decreases in their total and LDL cholesterol compared to people not given the supplement over the six-week course of a study published in the "Bangladesh Journal of Pharmacology" in 2006.