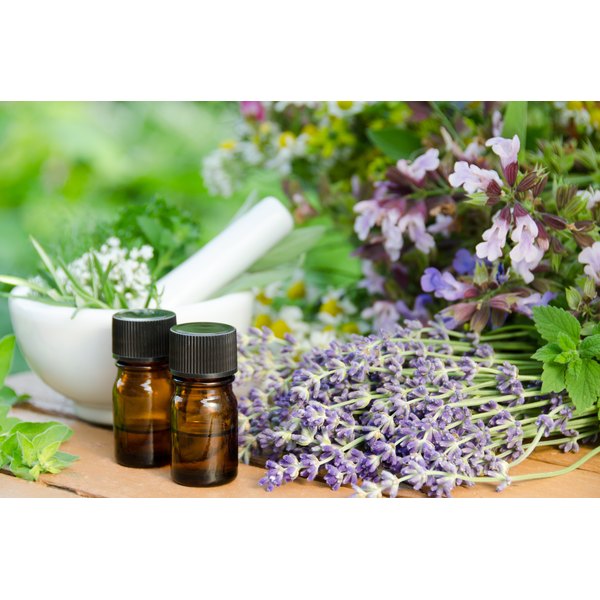 Essential oils can be used therapeutically to treat a large number of digestive disorders. Digestive disorders affect the stomach, intestines, bowels and the mouth. It is important to understand which essential oils are used to treat digestive disorders and how to use them. In addition, be aware of any contraindications for specific essential oils and consult a qualified professional if you're not familiar with essential oils.
Digestive Disorders
Digestive disorders include problems such as constipation, diarrhea, diverticulitis, indigestion, ulcers, irritable bowel syndrome, upset stomachs and nausea. Digestive disorders, even minor ones, often cause great discomfort. Shirley and Len Price, in their book, "Aromatherapy for Health Professionals," write that digestive disorders are common amongst the elderly, and that essential oils are useful in treating minor digestive problems.
Digestive Essential Oils
Digestive essential oils possess the right properties capable of reducing or eliminating the symptoms and effects of digestive disorders. AltMD.com states that digestive essential oils can reduce inflammation, stimulate or calm the nervous system (depending on the disease), and protect against disease. Aromatherapy is the use of essential oils for therapeutic purposes. Scientists have been studying essential oils for years to determine their effectiveness in the treatment of various disorders, according to Shirley and Len Price.
Essential Oils Types
Many of the citrus essential oils are used to treat digestive disorders, but some herbal essential oils can also be used. Examples include orange, lemon, ginger, peppermint, fennel, chamomile, dill, clary sage and lavender essential oils. Julia Lawless, in her book, "The Illustrated Encyclopedia of Essential Oils," gives examples of digestive disorders and appropriate essential oils for treatment; these include fennel for constipation, peppermint for nausea and ginger for stomach cramps.
Uses
Dilute essential oils in a carrier oil or lotion. AltMD.com recommends rubbing the abdomen with a blend of appropriate essential oils, or adding them to a warm bath to help ease many stomach and bowel disorders. Essential oils are not recommended for internal use.
Essential oils can often relieve digestive disorders when used in conjunction with a lifestyle change, such as a healthy diet. Poor diets contribute to several digestive disorders (such as irritable bowel syndrome, for example), according to AltMD.com.
Warning
Pay attention to any contraindications for certain essential oils in specific circumstances, and adjust accordingly. For example, some essential oils should not be used during pregnancy or if you have epilepsy. In addition, children should not use some essential oils, and some essential oils can cause skin sensitization in some individuals.