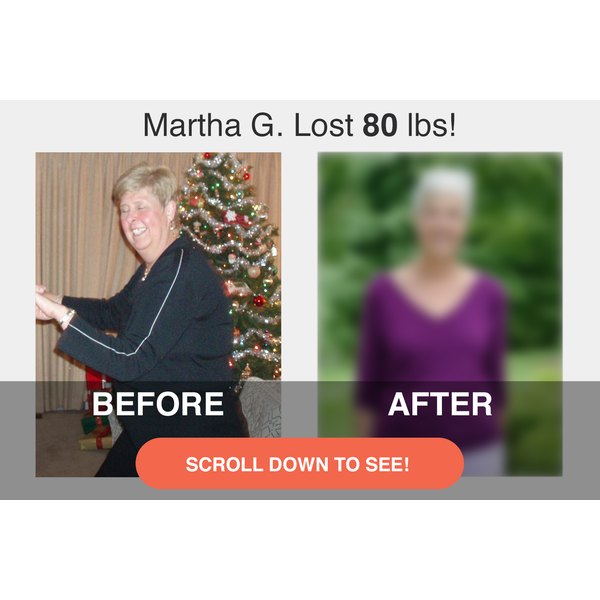 Name: Martha G.
LIVESTRONG.COM Username: lakesancutuary
LIVESTRONG.COM Member since: July 2009
Starting Weight: 222 pounds
Current Weight: 142 pounds
My Story
In October 2011 I weighed 222 pounds and realized that I had to do something about it. I committed to eating healthy, tracking my food on LIVESTRONG.COM's calorie tracker, and paying attention to calories. I decided to also incorporate a few visits with a hypnotist to give me extra motivation. Combined with my strong desire to get healthier, it worked for me. I approached this as a lifestyle change, rather than a diet. Over the following months I gradually changed the way that I ate, reaching my initial goal of 175 pounds after a year.
In February 2013, after I had succeeded in losing 50 pounds, I had a heart attack. Fortunately, there was no lasting damage, but that was an important reminder to me that taking care of my health was critical.
I attended a nutrition class, which motivated me to incorporate more plants into my diet, along with beans, fish, and much less red meat than before. I also started using a pedometer and worked up to 10,000 steps a day for at least six days each week.
My weight now hovers between 142-146 pounds, and I feel better than I ever have. I love to move, and I love the way I eat! I try to follow Michael Pollan's advice, "Eat food, not too much, mostly plants." This is not a diet for me; this is a way of life. I genuinely prefer the food I eat now to the way I used to eat, and I also love how I look and feel!
My Turning Point
One October morning, (after too much to eat and drink the night before), I heard a report on the radio about a study that showed it wasn't healthy to drink alcohol every day. That inspired me to decide that I would try not to drink Monday through Friday until Christmas, at least. At the same time I took a long, hard look at myself and realized that cutting back on alcohol was only part of what I needed to change; I had to start eating better and moving more. I figured I was at least 50 pounds overweight and even losing 10 percent would be a good thing.
My Support
My support system was and is my partner. She had lost weight and kept it off for about two years, and I knew that it was time for me to do the same. Since we were both eating a sensible, healthy diet that made it very easy to plan meals, and if we went out to eat, we supported each other in the effort to make good choices. Now that we are both in maintenance we continue to give each other encouragement and take long walks together on the weekend.
I gained a second key support system in March of 2013 when I started cardiac rehab. They started me on a regular cardio and weight routine three days per week that I follow to this day. The trainers and other gym participants have been a tremendous support to me.
My Biggest Challenge on the Road to Success
What was odd about my efforts to get healthy this time was that it didn't seem hard or challenging. I knew that I had to approach this as a lifestyle change, and I took it slow and steady. I made small, gradual changes as I incorporated a different way of eating and moving.
However, I did face a different type of challenge in my journey. After I had lost about 50 pounds, changed the way I ate and incorporated daily walks into my life, I suffered a heart attack. Fortunately, it wasn't serious and I was up and around within two days.
This was a pivotal moment for me. I had initially set my weight loss goal to be in the middle of the overweight category, which is a weight range that I'd been able to maintain. After my heart attack I realized that I needed to get into the normal category. Fortunately, the combination of eating a healthy diet most of the time and starting in on cardiac rehab kept me losing weight. I reached my goal in April 2013.
My Secret to Success
Most importantly, I didn't view this as a diet that I would eventually go off of. I knew this had to be a forever change that I could live with every day. No food was off-limits. It didn't matter if the weight loss was slow because I was going to be eating this way forever.
Overall, my diet focuses on real foods, LOTS of plants, and I watch portion sizes. MyPlate calorie tracker was THE most important tool I used. I write down everything I eat, even if only an estimate sometimes. This allows me to look back over the week or month and see why I've lost, gained or maintained my weight.
Early on in my journey I also went to a hypnotist. She and I worked on some key points: I wanted to choose healthy food most of the time, track everything I ate, pay attention to my calorie goal, eat when I was hungry, and move every day. I really believe that those suggestions helped me. One thing about hypnosis is that it can't make you do something you don't want to do, and I wanted to do this!
Set small, achievable goals. Don't commit to changing everything at once, and don't set a goal to lose 50 pounds by a specific date. Instead, commit to making one or two small changes at a time.
My Advice for Others
Set small, achievable goals. Don't commit to changing everything at once, and don't set a goal to lose 50 pounds by a specific date. Instead, commit to making one or two small changes at a time. When those become second nature add another, and so on. Set a realistic calorie goal so you aren't starving. You don't have to starve yourself to lose weight! Remember that eating healthy foods is a good thing, not a punishment. And track your food – that is so important!
What Do YOU Think?
If you or someone you know has a LIVESTRONG.COM Success Story to share, please email us at: Livestrong.comSuccessStory@livestrong.com.
Written by: Ann Rusnak