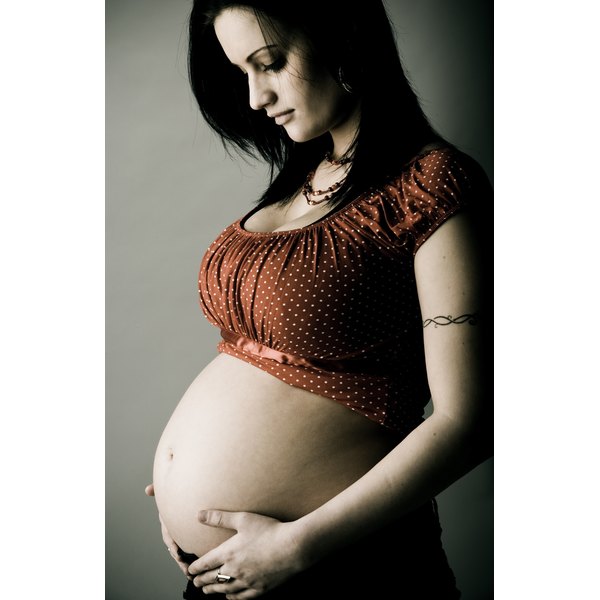 In 2011, nearly 330,000 babies in the U.S. were born to teenage mothers, which represented a decline of 8 percent from the previous year, when nearly 368,000 babies were born. Experts, parents and teens have mixed emotions regarding the results that reality shows have on teen pregnancy -- and whether these shows have a positive, negative or mixed effect on teens' actions and perceptions.
Glamorizing Teen Pregnancy
Reality television shows that showcase teen parents are glamorizing teen pregnancy, according to Los Angeles-based psychologist Nancy B. Irwin, in an interview on FoxNews. The teens that appear in these shows also appear in magazines and show up on other shows where they are talk about their babies, upcoming weddings, and about their families in general. Putting teen moms on magazine covers "Puts them on the same plane as any actress, singer, or other celebrity," according to Melissa Henson, director of communications and public education for the Parents Television Council, as quoted on ABC15.com. Teen moms get instant fame, which gives other teens a slanted view of teen pregnancy. Some experts believe that some teens are actually trying to get pregnant in a desperate attempt to get on a reality show, according to Christine B. Whelan, who is an assistant sociology professor at the University of Pittsburgh, in an interview on the Today show.
Influencing Conversation
The National Campaign to Prevent Teen and Unplanned Pregnancy paired up with a research company to conduct a survey that involved 162 teens, some of whom had watched the show, "16 and Pregnant" and some who did not. The study found that 93 percent of the show's viewers believed that parenthood was more difficult than they had imagined, based on the teens' reactions after watching these episodes. The survey also found that about 75 percent of the teens and parents questioned for the survey believed that reality shows provided opportunities for teens to communicate about love, sex and relationships. In fact, teachers, leaders of church groups, clinic nurses and social workers across the country are using episodes to prompt discussions regarding teen pregnancies and shattered dreams. "Any show that provides an opportunity to get more direction from a responsible adult, whether it's a parent or an educator -- that's a terrific opportunity," according to Leslie Kantor, the national director of education initiatives for Planned Parenthood Federation of America, as cited in a July, 2011 Time magazine interview.
Unrealistic Expectations
However, reality television may have the adverse effect of enabling a teen to believe that parenting a child while being a teen is easier than it actually is. A 2012 study based on viewers' perceptions after watching the show "16 and Pregnant" found that teens who watched this show were more likely to believe that the benefits of teen pregnancy outweighed the risks, compared to viewers who watched other shows. In a thesis paper entitled, "Exploring the Impact of MTV's 16 and Pregnant on Parents and Teenage Girls," Master of Arts candidate Tiffany Brewer conducted research based on the perceptions of teens and their parents who watched the show, as published on the website American.edu. She found that participants believed that the show was not an accurate portrayal of the show and that some believed that the show did not show actual struggles, such as financial challenges.
Cautionary Tale
Individuals who support these shows think that they may actually be preventing teen pregnancy. The drama that surrounds the subjects' lives on the shows "adds to the cautionary element" of these reality television shows, says Amy R. Kramer, of the National Campaign to Prevent Teen and Unplanned Pregnancy, in an interview on the Today show. In this respect, the show depicts teens who struggle with isolation from their peers, the disappointment of their parents, the challenges of taking care of a fussy infant and the burden of not having a father in the picture for the baby. Teen moms from the shows also encourage other teen moms to look into websites that provide sex education.