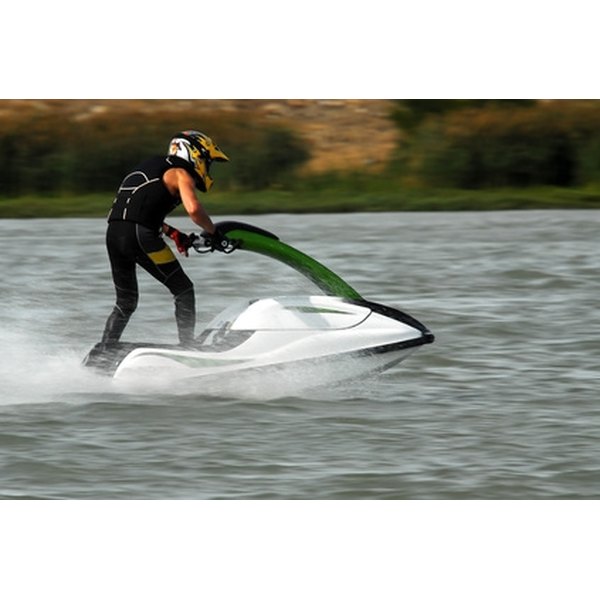 Water sports got a big lift 30 years ago with Kawasaki's introduction of its 27 horsepower Jet Ski, and today millions of people pack up their water skis and head to lakes and oceans for recreation. There is no shortage of choices for beginners, novices and pros. Kawasaki still puts out its Jet Ski and now Yamaha its WaveRunner, but today there are many manufacturers with their own versions so the sport does not lack variety, or sophistication and speed, in its machinery.
Jet Ski 800 SX-R
The Kawasaki 800 SX-R (2010) handles and corners better than last year's model according to some reviewers and it has padding in more places to prevent the bruises that sometimes show up after a day on the water. This boat accommodates one person standing and has a spring-loaded handle-pole that makes the ride more comfortable.
The 800 SX-R does not require a trailer to be hauled. It's less than 400 pounds and can be slid into the bed of a pickup truck. Owners of previous models will notice the design is a little different and allows for a more comfortable standing position. The body changes not only make it easier for beginners to pull themselves up onto it, it also makes it an easier handling boat.
Sea Doo RXP-X 255
The 2010 Sea Doo RXP-X 255, manufactured by Polaris Industries, is a fast, light-weight watercraft for two that is easy enough to handle on a lake for a beginner. Its small body, however, makes it fun and challenging for experienced racers because of the way it skims and bounces across the calm water, which is the best surface for it.
Riders who prefer the ocean, especially beginning riders, have reported difficulties controlling this smaller watercraft on rough, choppy waters. But most people taking to the seas may do better choosing a heavier craft.
Yamaha VX Sport
Watercraft enthusiasts on a budget may want to look at the Yamaha VX Sport. The Sport is a basic machine, but all the missing bells and whistles don't take away from the fun this machine provides. Priced around $8,000 in summer 2010, the VX Sport handles well in choppy water and is a safe choice for beginning or long-time skiers.
There have been comfort improvements in the body of this 2010 model over last year's model---a longer seat and more leg room---as well as several improvements in convenience and design. The engine has also been improved over the 2008 and 2009 models to be 10 percent more fuel efficient, although the last two models were already ranked high among vehicles of their kind for fuel efficiency.