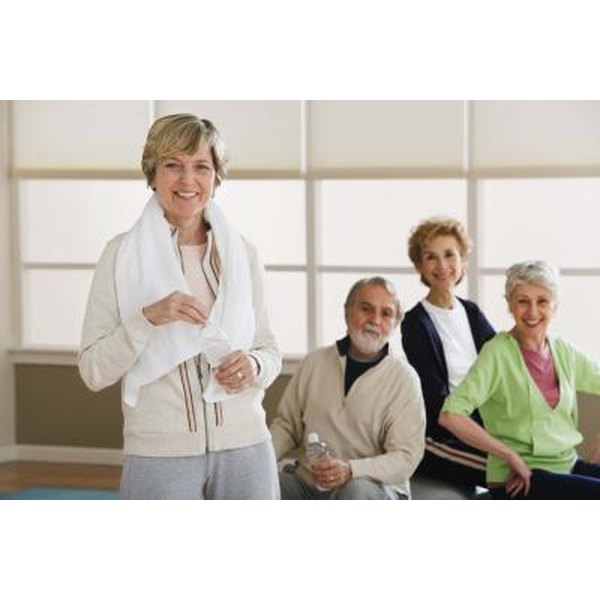 Being active provides multiple emotional and physical health benefits to seniors, who are at risk of developing various illnesses if they lead a sedentary lifestyle, according to the National Institutes of Health. For many seniors, pairing exercise with music is a way to make the workout rhythmic and enjoyable. An exercise-to-music workout routine for seniors should feature age-appropriate music and it can involve a combination of dry-land and water-based exercises.
The Right Music
Many seniors won't be enamored with the bass-heavy pop or dance tunes off today's pop charts, and could quit the exercise class as a result. Instead, seniors will often enjoy music genres that resonate with their age, such as big band music, Broadway tunes or the music of Motown. The geographical location of the group can also influence the genre of music; a group in the South might lean toward country music, for example. The music's level should be reasonable, as some seniors won't appreciate excessively loud music. The Idea Health and Fitness Association says it's not imperative that seniors move in time to the music. Simply keeping active is beneficial in its own right.
Cardio Routines
Senior exercise-to-music routines should suit the group's fitness level. A basic, indoor routine could include a combination of standing exercises and chair-based activities. Walking on the spot is a simple, effective exercise that many seniors can perform, and adjusting the intensity of the workout -- ideally, along with a change in the music's tempo -- keeps the class varied and enjoyable. A sample 10-minute cardio workout could include 2 minutes of slow walking in place, 2 minutes of moderate-paced walking in place, 1 minute of jumping jacks, 2 more minutes of moderate-paced walking in place and three minutes of slower paced walking to cool down.
Strength-Training Routines
Strength training to music is an effective way for seniors to stay healthy as they age. A short strength training exercise-to-music routine should include a variety of exercises that target various muscle groups; through this approach, seniors can rest one set of muscles while working another. A sample 5-minute strength-training routine, after a warm up, could include 1 minute of alternating seated leg lifts with ankle weights, 1 minute of biceps curls with resistance bands, 1 minute of shoulder raises with small dumbbells, 1 minute of standing calf raises and 1 minute of triceps extensions with wrist weights.
Water Workouts
Water aerobics allow seniors to increase their heart rate and challenge their bodies without impacting their joints. Many athletic center pools are equipped with sound systems to allow music during the routine. Aqua jogging can often be the focal point of a water aerobics class for seniors, but the workout can include resistance exercises to satisfy the workout's strength-training component. For example, a 12-minute water workout could include 2 minutes of walking in the water, 2 minutes of accelerating to a jog, 2 minutes of biceps curls with water weights, 2 more minutes of aqua jogging, 2 minutes of water pushups off the edge of the pool and 2 minutes of walking to cool down.