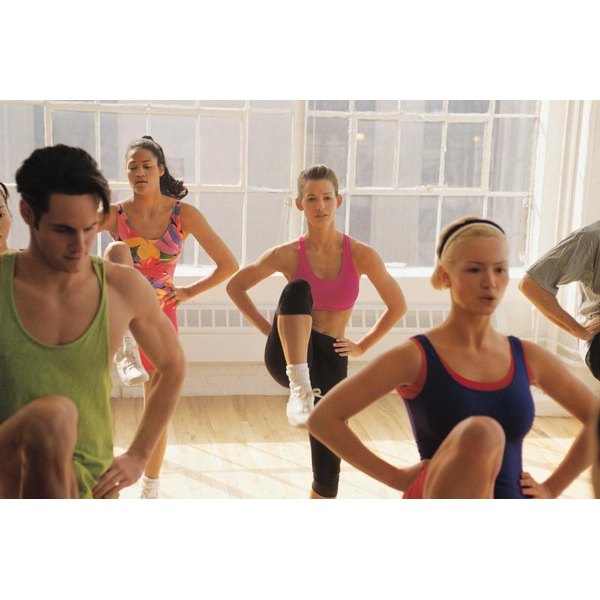 Working out with other like-minded individuals can often keep you motivated to meet your fitness goals, and attending an aerobics class or following an instructor on the TV provides a spirited, positive way to burn calories. The many variations of aerobics offer a number of options to burn calories at varying rates, and a short aerobics workout burns a couple hundred or a few hundred calories, depending on your weight.
Bounce to Feel the Burn
If you weigh 155 pounds, a 30-minute aerobics workout can burn a wide range of calories, depending on the specific nature of the workout. This 155-pound person burns 149 calories performing water aerobics, 205 calories performing low-impact aerobics and 260 calories performing high-impact aerobics. Step aerobics provides a healthy burn, too; the same person burns 260 calories during half an hour of performing low-impact step aerobics and 372 calories in a high-impact step aerobics workout of the same duration. During low-impact aerobics, you keep either foot on the floor at all times; in the high-impact variation, you often find yourself with both feet off the ground. As its name indicates, step aerobics makes use of a step to boost the challenge of the workout. Increasing the length of your workout boosts the caloric burn, while someone lighter or heavier than 155 pounds burns fewer or more calories, respectively, during a given workout.