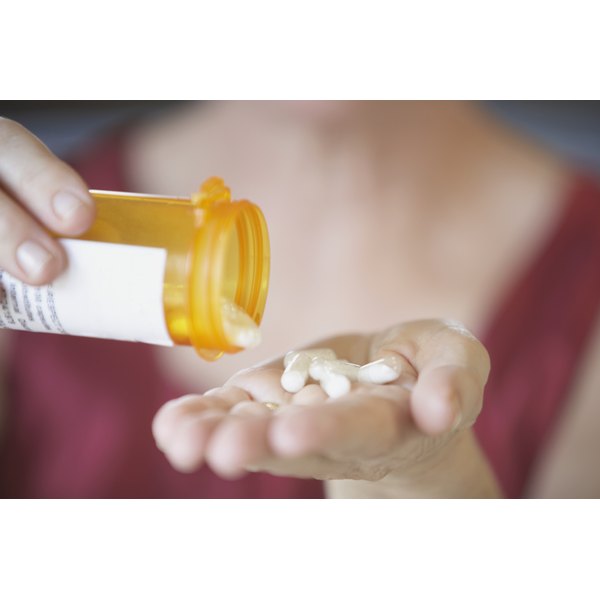 Iodoral is a capsule that supplies iodine to the body. Iodine helps the thyroid gland produce thyroid hormones. It also is essential for proper function by other organs in the body. Iodoral contains 5 mg of iodine and 7.5 mg of iodide in the potassium salt form, as opposed to the liquid iodine which stains clothing, has an unpleasant taste and may cause gastric problems. The suggested amount of Iodoral is one to four tablets per day. Dosage can be changed by a doctor to make sure the patient stays healthy during treatment and does not have any adverse effects.
Treatment Uses
Some of the conditions that Iodoral claims to treat are fatigue, headaches, migraines, PMS, easy weight gain, depression, irritability, insomnia, allergies, fibro cystic breast disease, fluid retention, anxiety and panic attacks, hair loss, poor memory, poor concentration, low sex drive, Carpal Tunnel Syndrome, hives, acidic morning urine with a pH below 6.5, unhealthy nails, dry skin and hair, cold or heat intolerance, low motivation, acne, asthma, high cholesterol and even cancer. It should be taken into consideration that while many people may find iodine treatment beneficial, none of Iodoral's claims have been approved by the Food and Drug Administration.
Low-Level Side Effects
The Health Natura website lists differing levels of side effects that can be caused by Iodoral. Level one side effects include feeling more stressed than usual, feeling frazzled or burnt out, feeling jittery or over-excited, increased irritability, depression, headache, having trouble focusing your vision, eye strain or eye stress and rapid heart rate. All of these symptoms indicate an imbalance between the thyroid and adrenal glands. Adrenal support supplements, omega three fatty acids and buffered vitamin C can help eliminate these side effects. When experiencing these symptoms, it is advised that you stop treatment with Iodoral and begin taking adrenal support supplements, omega three fatty acids and buffered vitamin C. After three to four weeks, these symptoms should subside and you should be able to begin taking Iodoral again by starting with a half a tab daily, slowly building up to your regular dose. Dosages are decided upon specific symptoms that are experienced by patients.
Menstrual Cycle Disruptions
Iodine treatment can cause menstrual cycle disruption. Experiencing irregularities in menstrual cycles during initial iodine treatment is not uncommon. Earlier cycles, heavier bleeding and bleeding that lasts longer than normal period are common effects. If you are not taking supplements such as vitamins, adrenal support supplements, Omega three fatty acids and buffered vitamin C, then it would be a good time to do so. While giving the vitamins a while to work, you can also cut down your Iodoral intake to half a capsule twice daily until you can build up to your regular dosage.
Hyperthyroidism
Level four effects include significant hair loss, heart palpitations, significant and abnormal weight loss, loss of muscle, loss of breath, muscle weakness and hand tremor. At this stage, it is crucial to immediately stop your intake of Iodoral and to consult with your doctor immediately. Iodoral may trigger hyperthyroidism. You may need to undergo a thyroid panel test. If you do test positive for hyperthyroidism, gradually begin taking Iodoral with supplements like adrenal support supplements, omega three fatty acids and buffered vitamin C to help you feel better sooner.
Ingestion of Iodine
Level five effects begin with acne-like skin lesions on areas of your body, headache in the frontal sinus, an unpleasant brassy taste in the mouth and increased salivation and sneezing. These side effects have been noted in people who ingest iodine, however; what causes this reaction in the body is not known. It may also be related to improper metabolism caused by iodine. The idea situation if this occurs is to contact your doctor immediately. Patients who are sensitive to iodine ingestion will have to be monitored to make sure there are no underlying diseases or further reactions to iodine in the system.
Conclusion
Iodoral can be a beneficial treatment for some people, especially those with thyroid problems. As long as it is taken under the supervision of a doctor and taken by a responsible patient, few problems should occur. Benefits of Iodoral are plentiful and if side effects are minimal, it may be better to continue treatment if you are able to do so. However, if you do find yourself having any serious side effects from Iodoral, you should contact your doctor immediately.