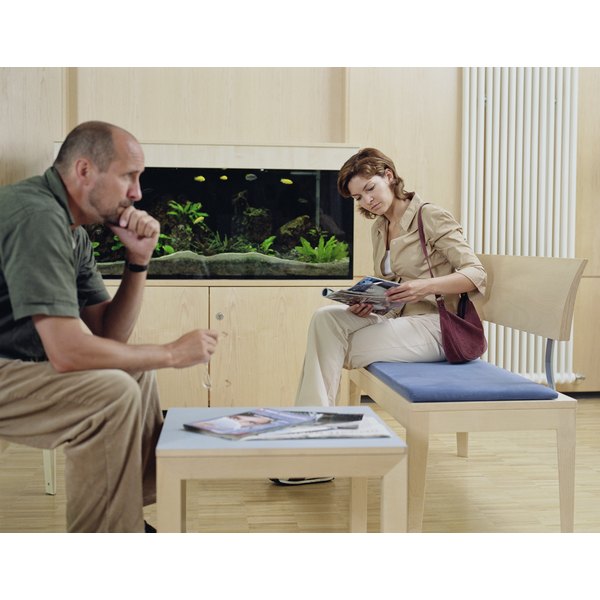 More than 400 fertility clinics have been opened in the United States. These clinics vary in the volume of patients treated, type of treatments offered, fees charged and pregnancy success rates. Fertility clinics can vary from "Mom and Pop" shops to large hospital-affiliated or corporate managed mega-centers. Creating a successful fertility center is possible in any number of configurations as long as patients' needs are the organizing principle from which decisions are made.
Steps to create a fertility clinic
Find a great location. Check out the competition and analyze the local fertility market. You don't want to be the newest provider in an already over-serviced area. Some states mandate insurance for infertility coverage, but this may require you to pursue a volume-driven approach to make up for low reimbursements. Design a mission statement and a business plan for the kind of fertility clinic you want to bring to a market, based on your own medical values and ethics. If you are located within a surgery center or rental space, make sure that the larger organization recognizes the special needs your fertility center has, such as backup emergency power that protects clinical incubators.

Hire the very best people for your in vitro fertilization (IVF) team. The Practice Committee of the Society for Assisted Reproductive Technology has published helpful guidelines (November 2006, Fertility and Sterility, Vol. 86), entitled "Revised minimum standards for practices offering assisted reproductive technologies." Minimally, your team should consist of: at least one board-certified reproductive endocrinologist specializing in infertility to act as medical director; one board-certified lab director with expertise in clinical in vitro fertilization; and a technical lab staff with training and experience in culture techniques and micromanipulation of gametes (eggs and sperm) and embryos. Hire a compassionate and knowledgeable nursing staff with a deep well of patience. Consultants for mental health issues or genetic counseling are also recommended. As a practical matter, office staff who understand the regulations surrounding proper billing are vital to watch out for your bottom line and keep you compliant with state and federal billing and privacy regulations. Hire people who can work well together as a team.

Build a functional and efficient laboratory space. Lab areas must be adjacent to procedure room areas so transport time for gametes from patient to culture is minimal. Construction methods must be carefully considered to engineer a clean room environment with minimal use of embryo-toxic construction materials. Allow a period of weeks for off-gassing of volatile chemicals used in construction, before initiating clinical procedures. Ideally, lab space should be in a positive pressure air flow area to maintain good air quality and prevent back flow from less clean areas into the lab. Buy the best laboratory equipment that you can afford from companies with a track record of reliable service. Always require a certificate from the manufacturer confirming that the supplies are not embryo-toxic. Some supplies that are used in embryo culture may have to be tested in the lab after receipt using a quality control test to verify safety with embryos. A typical quality control test or assay is to observe the growth of mouse embryos in culture after non-certified supplies are placed in contact with the mouse embryos. If mouse embryos develop normally, the supplies are considered safe to use. A competent lab director will be able to help design an efficient lab space and will be able to troubleshoot problems in the lab on an ongoing basis.

Design your office and patient areas to facilitate good medical care in a friendly environment. Fertility treatments are stressful for patients. Your patient areas should be designed as clean, warm and welcoming spaces to minimize patient stress. Hire office staff who are not only knowledgeable, but compassionate and patient. Train office staff in the special needs of infertility patients who, unlike other medical patients, are usually physically well except for an inability to conceive. Part of your mission and your staff's mission will be to educate and gently guide patients through their medical treatments. Infertility patients can be emotionally demanding. Treat your staff well so they can treat your patients well.

Be knowledgeable and compliant regarding all state and federal regulations. Your lab must be inspected on an annual basis. The Food and Drug Administration regulates and inspects clinics which screen sperm or egg donors or match patients to gestational surrogates. Unlike every other medical practice, federal law requires fertility practices to report their medical outcomes (pregnancy success rates) to the Centers for Disease Control on an annual basis. Become aware of and follow the American Society for Reproductive Medicine medical practice and ethical guidelines. Have a thoughtfully designed quality control and improvement program in place for every aspect of the clinic, especially as it pertains to pregnancy outcomes, maintenance of detailed and accurate medical records, and most importantly, chain-of-custody procedures to identify and track gametes and embryos. Develop your patient consent documents and specimen storage contracts with a legal consultant who understands infertility treatment issues.

Develop a good relationship with your referral network. Your referral network includes local primary doctors, obstetricians or gynecologists who often first encounter a patient with fertility concerns. Specialize in fertility treatment and leave the obstetrical care to the appropriate colleagues, which can help preserve your referral base. Remember that your patients are also part of your referral network. A great patient experience is the best advertisement for your program. Put the patient first and foremost in every step.

Warnings

This article is not meant to provide an actual business plan, but only to identify some areas for consideration in preparing to provide fertility clinic services.