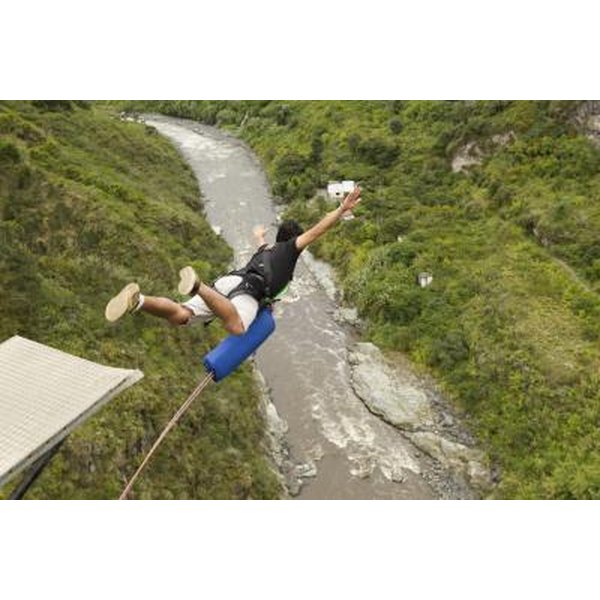 Standing on a precipice hundreds of feet above the ground gives you pause. Competing for headspace are the breathtaking view and tumbling thoughts filled with fear and excitement. In a few seconds you'll take a mighty leap into the air and ,as you plunge towards the earth attached to a bungee cord, the last thing you want to be worried about is whether you're wearing the right clothes. Bungee jumping is one of the few extreme sports that doesn't require you to wear a uniform. But you do have to consider comfort and your safety.
A Tight Fit
Even though you're hurtling head first, start with your feet to dress for bungee jumping. Wear sneakers or other tight-fitting shoes. Boots that rise up your calf will hamper the ankle harness; you may be asked to remove the boots and jump barefoot or not at all. Close-fitting athletic wear is your best bet for clothing; especially if you opt for the body harness. A shirt with a collar can protect your neck from harness abrasions.
Bright But Not Fancy
If you want your special moment captured on camera, wear bright colors. Leave your decorative scarfs, ropey necklaces and anything that might get caught up in your bungee cord at home. Shortsighted jumpers have to leave their glasses at ground level, and while soft contact lenses are allowed, hard lenses are not.