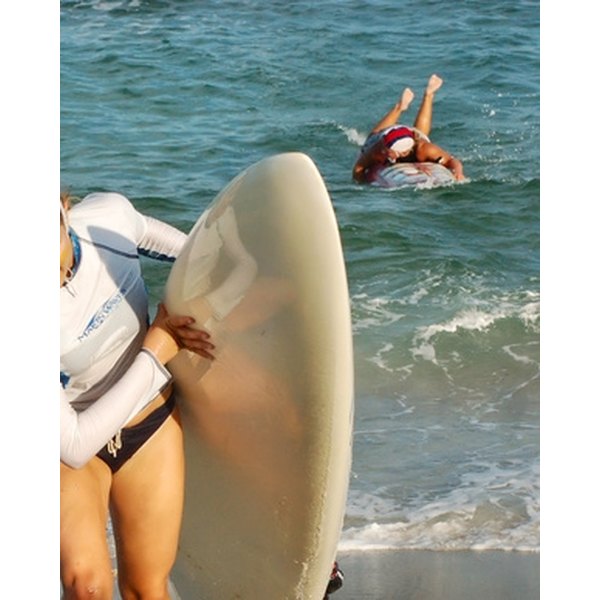 When you design your own athletic clothes, focus on function above the graphics and colors. A rash guard is a protective shirt, sometimes with matching shorts, that provides keeps you warm in cool water, and protects your skin from potential danger such as jellyfish, rocks and sunburn. Rash guards differ from other articles of clothing, since they cater to a unique group of individuals--surfers, water skiers and swimmers. Make sure the rash guard functions properly for your chosen water sport, while also reflecting your personality.
Research the current market and variety of styles for rash guards, and evaluate your own reason for the garment. Consider whether you want a rash guard for surfing, swimming or another activity. If you surf in a cooler location or in an area with large rocks, consider long-sleeves for added protection. Identify your intention for the garment to help you achieve a finished product that works best for you.
Sketch a rough image of the rash guard itself free of any colors or graphic design. Match the fit of the rash guard to your body type. Determine here if you need long sleeves or short sleeves and matching shorts, and draw them into your sketch. Decide on the height of the collar, which depends on the length of your neck. Ensure that each area fits your body type appropriately and will provide the most comfort during your activity.
Choose your material and sewing method. Most rash guards contain a combination of spandex, nylon and polyester, all of which provide a breathable, quick-drying garment. Manufacturers use flat-lock stitching on rash guards for increased comfort.
Draw the graphic design on the sketch of your rash guard to add character to your garment. If you have a sponsor for your sport, include one of their logos on the garment. Position the graphics where you like them best, but make sure you place them where observers can easily see them, especially your sponsor's logo.
Color your rash guard and its design. Select colors that are bold, bright and confident. If you want to use neutrals for your main colors, add white to make the neutrals pop. Remember, you want your rash guard to stand out.