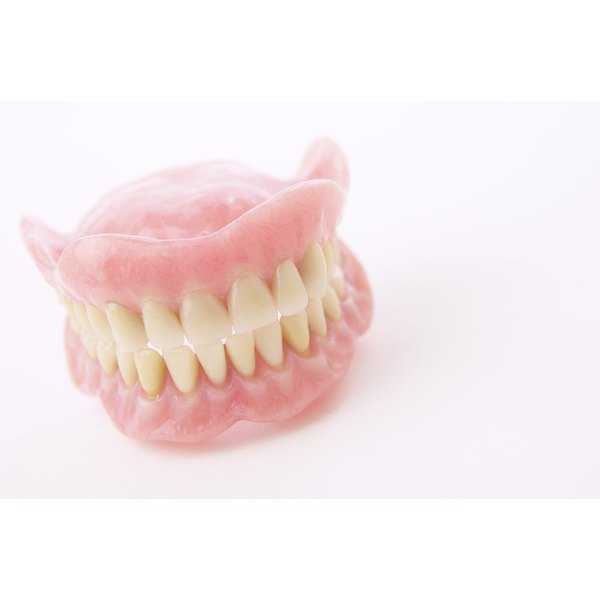 Attractive, natural-looking dentures that fit well makes the difference between misery and a normal life for many adults. Whether they've lost natural teeth due to decay or injury, adults adjust to dentures better than others. Often, the first denture fitting needs correction as the mouth adapts to the prosthetic. An underbite, overbite or other improper alignment can cause pain, difficulty eating or speaking and and poor physical appearance. Your dentist can fix a poor denture bit a number of ways.
Fix denture occlusion. When a dentist fits dentures over weak bone, the denture may slip or shift and cause bite problems. To correct this, a dentist first uses an articulator to determine the movement of a patient's jaw. This instrument aids the dentist in collecting data about what caused the poor denture alignment.
Use a facebow transformer. To determine the best upper to lower jaw measurement, your dentist should attach this to an articulator and record bite dimensions. This will provide the right denture measurements for comfortable chewing and biting.
Ask for the Turbyfill system. Designed by a prominent prosthodontist, this method involves placing a test denture in the mouth before final impressions are made. This ensures that the final dentures fit better and helps reduce the chance of poor bite.
Wear plastic instead of porcelain. Plastic dentures have a gentler impact during biting and chewing than porcelain denture, which tend to hit harder when the jaw moves. For this reason, patients predisposed with bite problems should choose plastic dentures.
Check for underlying conditions. Some patients may have Temporo-Mandibular Joint Dysfunction (TMJ), which contributes to bite pain and occlusion, while others may have misaligned natural teeth or crowns that interfere with the alignment of partial dentures.
Invest in cosmetic dentures. Inexpensive "one size fits all" dentures may save you money at first, but may cause bite problems more often than cosmetic dentures that are fitted and sculpted to replicate the individual's teeth and gums in a natural manner