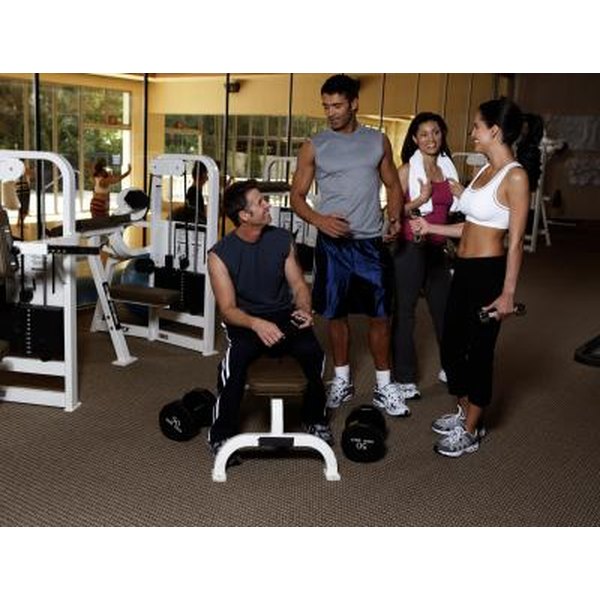 Open days allow fitness centers the opportunity to welcome people of the community who are not yet members and introduce them to the benefits and amenities of the gym. The goal of having an open day is to motivate non-members to want to incorporate exercise into their lives and to become members at your gym. Make your open day the most effective it can be by scheduling activities throughout the day to engage and encourage your new visitors.
Free Classes and Boot Camps
Use your open day to show off the array of fitness classes your gym offers and your qualified instructors. By featuring free spin, yoga, Pilates, kickboxing, circuit training, swimming and other workout classes throughout the day, you can introduce potential exercisers to new types of exercise that might work for them and let them get a feel your instructors' teaching styles and how much members enjoy the classes. Ask trainers and staff to participate in the classes and provide additional encouragement to make visitors feel comfortable and confident that they'll be offered constructive guidance if they become members. Provide flyers detailing the training benefits and typical calories burned from each type of class and have printed class schedule calendars available for visitors to take home.
Drawings to Win Prizes
Give a raffle ticket to each visitor who comes to your gym and raffle off a variety of fitness and health-related products. Advertising your raffle ahead of time can encourage more visitors to attend, which can lead to more membership sign-ups. Raffle off large items -- like bikes, fitness balls, exercise mats and wearable fitness tracker watches -- as well as smaller items -- like gym t-shirts and towels. You can also raffle off free memberships and personal training sessions, which may encourage people to sign up for a full membership once their free period has ended. In each prize, add a free single or three-day pass to encourage people to return to your gym. Reach out to sporting goods manufacturers to see if you can get the prizes donated.
Athletic Games
The goal of the open day is to make visitors feel welcome so that they can see themselves fitting in as members. Athletic game activities communicate that your gym is a happy and spirited place to be. They provide an opportunity for visitors to positively interact with staff and current members. This helps instill a sense of community. Potential games include a basketball shooting contest on your athletic court, where visitors must make a certain number of baskets within a certain amount of time, and swimming relay races in your gym's pool. If your gym has tennis, badminton, table tennis or racquetball courts, consider adding games in these facilities as well. Offer prizes for all participants and even more special prizes for the winners.
Free Fitness Tests
Offering free fitness and exercise tests throughout your open day can showcase the education and experience of your trainers, while at the same time providing motivation for visitors to improve their fitness levels. Allow visitors to have their body fat percentage tested in a private area of the facility where they won't feel uncomfortable. Have your trainers administer the sit-and-reach test to measure visitors' flexibility and then the pushup, sit-up and wall-sit tests to measure upper-body, lower-body and core muscular endurance. Provide motivation for visitors to participate by offering a free week-long pass to the gym to those who complete the entire battery of tests. To further demonstrate how your gym will help them improve their health, offer a free consultation to visitors based on the results of their fitness and exercise tests.