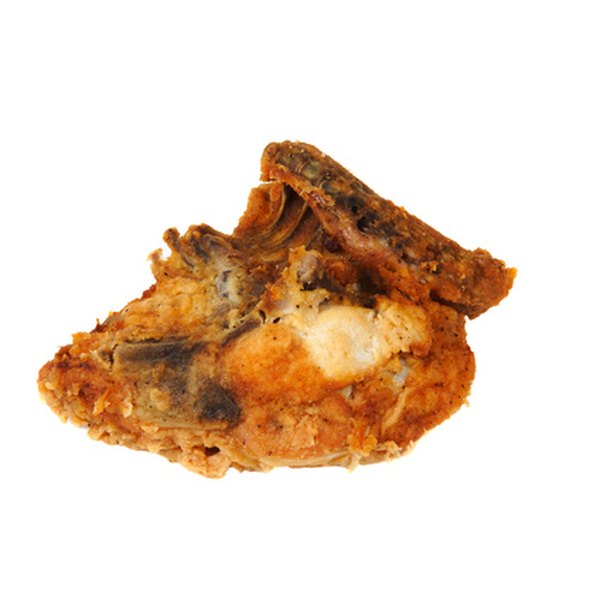 Most food guide pyramids emphasize eating carbohydrates, but the rising level of obesity in the United States spurred some diet experts to explore whether new pyramids needed to be developed. In 2004, best-selling author Dr. Robert Atkins unveiled the Atkins Pyramid. It has become the standard food guide pyramid for nutritionists who believe that people should eat food with more protein and fewer carbohydrates.
Theory Behind Pyramid
Atkins' pyramid is based on the theory that human body fat is caused by foods that increase a body's blood sugar. "Fat causes virtually no blood sugar elevation and protein very little elevation," according to "Dr. Atkins' New Diet Revolution." Carbohydrates increase blood-sugar levels and body fat, Atkins wrote. The Atkins Pyramid unveiled in "Atkins Diabetes Revolution" in 2004 recommended consuming a lot of protein-rich foods and few carbohydrate-rich foods.
Largest Part of Pyramid
The largest part of Atkins' five-section pyramid, the bottom section, represents foods that should be eaten the most. It recommends "protein such as poultry, fish, beef, pork and soy products." Atkins advocates that calories from protein constitute 25 percent to 30 percent of the calories in your diet. The U.S. Department of Agriculture, the creator of the most commonly accepted food pyramid, recommends that protein constitute 18 percent of your diet.
Protein's Benefits
Atkins wrote that protein is the largest part of his pyramid because it helps you control your weight better than carbohydrates for several reasons. According to Atkins, protein makes you feel more full than carbs, burns calories faster, stores less fat because of its smaller impact on insulin, and has a larger effect on the release of fat because it increases glucagon levels more.
Vegetables
The second-largest section of Atkins' high-protein food guide pyramid is reserved for vegetables. The pyramid advises you to eat vegetables that are low in carbohydrates and loaded with nutrients like beta carotene, lycopene and lutein. These vegetables are usually high-protein foods. The pyramid specifically recommends that you eat more salad greens, broccoli, cauliflower, asparagus and spinach. Atkins also recommends garlic, kale, onions and peppers.
Fruits and Nuts
The third-largest section of Atkins' high-protein pyramid calls for eating "fruits such as blueberries, raspberries, pears and avocados." These fruits are very low in carbohydrates and high in nutrients. The second-smallest section of the five-section pyramid calls for eating nuts, legumes, cheese, other dairy products and oils. Even in this section, Atkins advocates foods high in protein, including almonds, hazelnuts, pecans and walnuts.
Disagreement on Grains
Grains represent the smallest part of the Atkins pyramid. The USDA pyramid, on the other hand, shows that grains are the foods that should be eaten the most. Vegetables represent the second-largest part of the USDA pyramid followed by fruits, dairy, meats and beans, and oils. The high-protein content of meats and beans makes the USDA pyramid a low-protein pyramid. Atkins wrote the USDA pyramid "directly contributed to the twin epidemics of obesity and diabetes that we now face in this country."