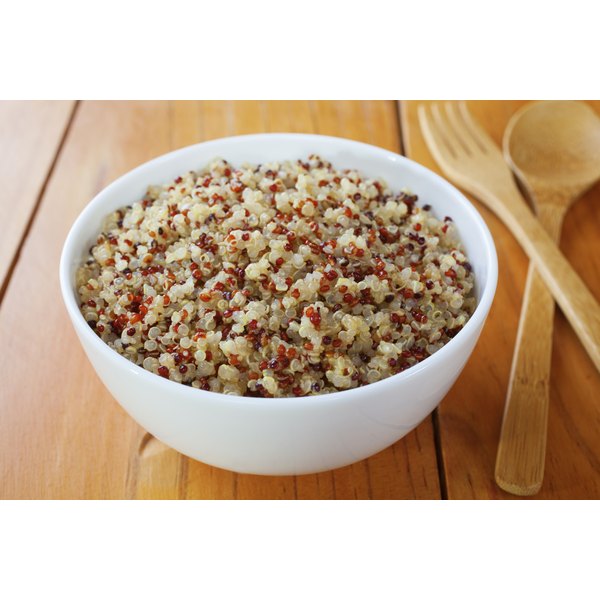 Starting your day with breakfast is vitally important, but not just any breakfast will do. Gulping down a meal high in refined carbohydrates can lead to fluctuations in blood sugar levels that can leave you feeling tired, unfocused and hungry shortly after breakfast. Eating a breakfast rich in protein, however, increases feelings of fullness and satiety, as well as reduces brain activity that controls food cravings, according to a study done by University of Missouri.
Eggs
An omelet made with one whole egg and two egg whites makes an excellent high-protein breakfast. One egg contains more than 6 grams of protein, much of it found in the egg white. Since egg yolks contain cholesterol, by using one whole egg along with two egg whites, you pump up the protein content and keep the cholesterol at a minimum. According to Harvard School of Public Health, consuming up to one whole egg a day doesn't increase the risk of heart disease in healthy people.
Turkey Bacon
Eating turkey bacon or other lean meat is a good way to ensure a high-protein, low-fat breakfast. An ounce of cooked turkey bacon contains approximately 5 grams of protein and less fat than traditional pork bacon. Before buying packaged turkey bacon, check the nutritional facts label on several different brands to compare their calorie, sodium, fat and cholesterol content.
Low-Fat Dairy
Cottage cheese or yogurt is the perfect high-protein breakfast choice for busy mornings. A 4-ounce serving of low-fat 1-percent cottage cheese contains 14 grams of protein, while a 3.5-ounce serving of plain nonfat Greek yogurt provides more than 10 grams of protein. Make a smoothie using low-fat milk or yogurt and include a scoop of protein powder or a tablespoon of nut butter to pump up the protein power. Serve your low-fat dairy with fresh fruit or vegetables to boost the nutritional value.
Quinoa
Quinoa, a gluten-free grain, is a complete protein, which makes it an excellent choice for a vegan high-protein breakfast. A 1-cup serving of cooked quinoa contains approximately 8 grams of protein. Substituting low-fat milk for half the required water during the cooking process boosts your protein content. Top your cooked quinoa with chopped nuts, fresh berries and sprinkle with cinnamon to not only enhance the taste but also increase the nutritional value.