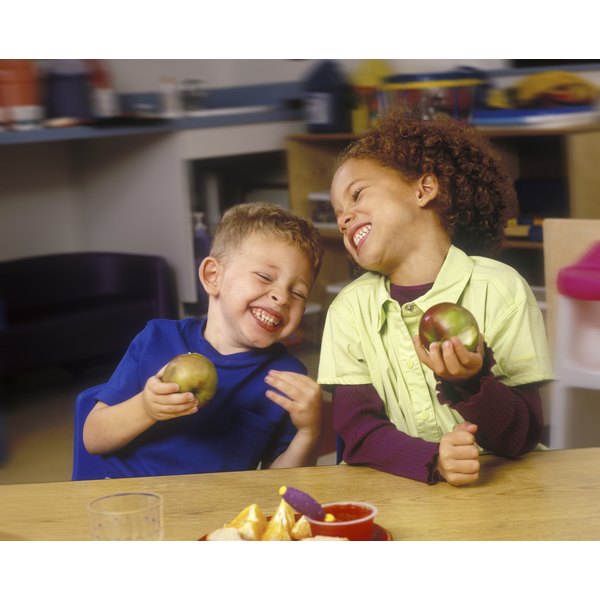 One-third of a child's eating habits can be influenced by what she eats at school, and because of that, it is vital to understand what children are eating, what nutrients they are getting and what programs exist to help them fulfill their nutrient needs. It is the responsibility of the United States Department of Agriculture to provide healthy and nourishing meals to the millions of children receiving school lunches every year.
Importance of School Lunches
Adequate nutrition is essential to a child's development, and schools provide a large proportion of that child's nutrient intake. Children's appetites and nutrient needs vary by developmental stage, and inadequate nutrition at any of these stages can negatively influence academic performance, behavior and energy levels. School food service programs and the directors of those programs are indirectly responsible for the well-being of the student in that school district. Appropriate funding, adequate commodity sourcing and community support are crucial in building a sufficient food service program that provides a strong nutritional foundation in school meals.
Federal School Lunch Program
To help children meet their nutritional needs, the National School Lunch Program provides federal assistance that supplies reduced-cost or free meals to qualified families. The program was expanded in 1998 to include snack foods during after-school educational and enrichment programs. School authorities can receive reduced-cost commodities, and they may receive cash subsidies for participation in the program. The intent of the program is to enable every student to obtain a nutritious meal at school. The school meals must meet the nutrition standards established by the Dietary Guidelines of Americans and federal requirements. The meals are modified to suit children's tastes, particular nutrient needs and meal patterns at different ages. States are permitted to further regulate restrictions on the types of foods that can be served as part of School Lunch Program meals, and in some states, items such as soft drinks have been removed. Foods of Minimal Nutritional Value, as defined by a list of foods provided to schools, are not permitted to be served during meal service. Enforcement of these policies falls upon state departments of education.
Nutritional Requirements of Schools
School lunch nutritional quality is established by the Dietary Guidelines of Americans and upon specific decisions made by the USDA in the interest of children's nutritional needs. The Dietary Guidelines of Americans is compiled by the cooperative actions of various organizations, and it establishes a guideline on which menus and meal patterns are built. National School Lunch Program regulations include the School Lunch Patterns, which specify the food items and quantities that are served to children participating in school lunches. Menu items emphasized include protein-rich foods such as meat, poultry, fish, cheese, eggs and legumes; vegetables, fruits, breads or grains. By emphasizing these food groups, the menus should provide the children at least one-third of the nutrients they need to facilitate healthy growth. Generally, the requirements include one serving of a protein-rich food, two servings of vegetables and/or fruit, about one serving of bread and one serving of milk. The sizes of the servings vary by the child's age. Specific nutrition facts and values can be obtained by contacting the school's food service department.
Competitive Food Offerings
In addition to standard cafeteria school lunches, some schools allow for off-campus lunch privileges and for competitive foods to be sold on campus. A competitive food, as defined by the USDA, is any food that is sold "other than meals served through federal school meal programs." This can include foods sold from vending machines, cafeteria a la carte lines, snack bars and fundraising activities.
Controlling Competitive Food in Schools
Competitive foods do not necessarily comply with the nutritional guidelines and can derail the healthy diets of some children as they are not part of the federal school meal program. Foods officially sold by the school, such as vended products hosted by the school, can be controlled. Policies restricting the times of the sales of other competitive foods can be implemented, preventing the overlap of food choices sold. School policies also can restrict the types of foods being sold by clubs, and off-campus privileges could be restricted to older students. The choice to purchase food items ultimately falls on the children buying the items, so providing healthier, more nutritionally-balanced options could enable wiser food purchasing.