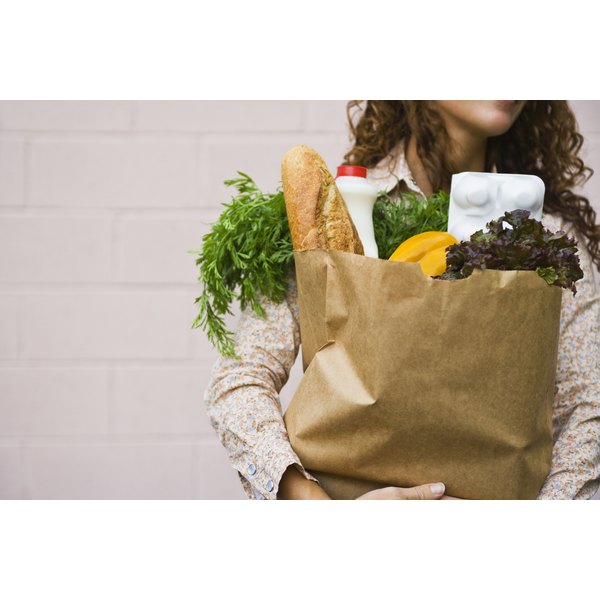 Creating a healthy list of foods to get from the grocery store starts by planning meals that fit into your diet. Many dieters and those being more health conscience tend to buy prepackaged, low-fat foods, such as 100 calorie packs or low-fat frozen entrées. While these foods are easy to prepare and eat, they are not always cheap. Finding foods that are on sale and preparing your own low-fat meals will help you save money on your grocery bill.
Breakfast
Breakfast is an important part of your daily energy intake. Preparing a grocery list full of healthy foods will help you get off to a good start each morning. Choose whole wheat English muffins or whole wheat bread that is discounted or on sale. Or, buy breads and buns at a discount bread store. Because these items are close to their expiration date, freeze them until you are ready to use. Farm fresh eggs are a healthy source of protein--try to buy these from a farmer or private owner, rather than a store, to save money. Purchase oats that are discounted or on sale. A container of oats will last twice as long as instant oatmeal packets and there are no added fillers. Don't forget to include sugar-free cereals on your healthy foods list. Look for large, bulk-bagged cereals of puffed wheat, shredded wheat and corn flakes.
Lunch
Eat a healthy lunch by stocking up on items you can prepare at home. Look for lunch meat that is on sale or buy in bulk for cost savings. Turkey breast is generally the cheapest. Go to the deli counter to see if they are running any specials. Avoid processed meats, such as olive loafs and bologna. Choose fruit and vegetables in place of chips for lunch. Buy seasonal items so that you get the most for your money. Buy whole carrots rather than baby carrots to save money. Shred, cut and eat with a sandwich. Make soup at home using healthful ingredients -- it's cheaper and more nutritious than canned soup. A simple pureed soup of vegetable broth, carrots, green apples and grated fresh ginger makes for a warming and nutrient-packed lunch.
Dinner
Your grocery list for dinner should include meat, vegetables and a starch that is affordable yet able to be split into multiple meals or for more than one person. Read your grocery store's weekly ad circular. This will tell you which stores have which meat on sale. Stick to boneless, skinless chicken or turkey breasts. Choose lean cuts of beef, such as roasts or steaks, with minimal visible fat. Potatoes are low in fat and high in nutrients, such as potassium. Purchase whole-grain bread and keep most of the loaf in the freezer to prevent spoilage -- just remove the slices you'll consume in the next couple days. Cut down on your vegetable costs by opting for frozen veggies. Their long shelf life cuts down on spoilage, but they offer the same nutritional benefits as fresh veggies.
Snacks
Eat snacks throughout the day to regulate blood sugar and keep your metabolism normal. Create a list of healthy foods and head to the bulk foods section. Buy pretzels, raw almonds and dried fruit by the pound--it's less expensive. Create your own trail mix and granola by buying items in bulk and placing in plastic baggies or recyclable containers. This is an inexpensive alternative to buying name-brand items.