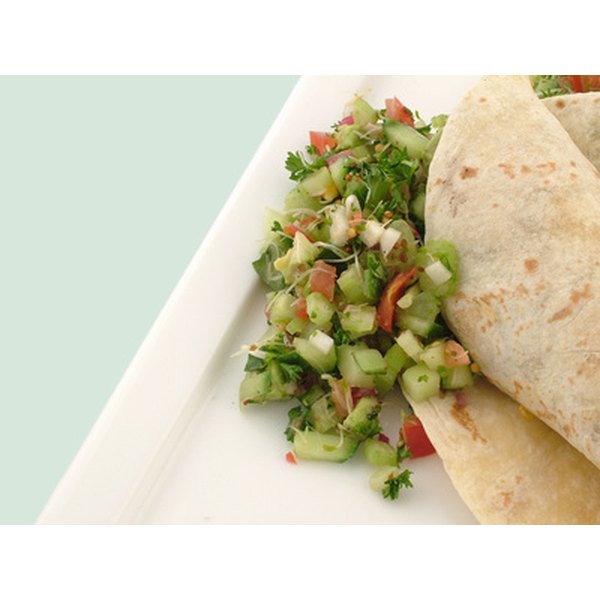 The legume alfalfa has been used throughout history as a dietary and medicinal aid. It may help lower blood glucose and cholesterol levels, and people sometimes take alfalfa supplements seeking these benefits. However, further study is needed to either recommend for or against these uses of alfalfa, the National Institutes of Health reports, and there are some reports of a lupus-like syndrome associated with supplements. Alfalfa can be consumed raw and provides many weight control benefits in this form.
Low Glycemic Load
Alfalfa has an extremely low glycemic load, meaning it does not spike blood sugar when consumed. Spikes in blood sugar lead to the release of insulin, a hormone that promotes fat storage. You can add alfalfa leaves or sprouts to bulk up sandwiches, wraps and other meals to increase fullness without contributing to a rise in blood sugar.
Nutrients
Alfalfa is rich in nutrients, especially trace minerals from the soil. Food cravings can be associated with nutrient deficiencies, according to "Eat Fat Look Thin: A Safe and Natural Way to Lose Weight Permanently," by Bruce Fife. Mineral deficiency, for example, can lead to sweets cravings. Eating raw and unprocessed alfalfa is best in terms of maximizing nutritive value, Fife advises, and consuming alfalfa along with healthy fats like omega-3s helps your body absorb the minerals. Alfalfa is rich in the minerals phosphorus, potassium, zinc, silicon and calcium. It's also a good source of vitamins A, C, E and K and the B vitamins and is rich in amino acids.
Clorophyll
The chlorophyll, or green pigment, in alfalfa helps promote regularity in the body and helps to detoxify the liver. Chlorophyll is one of the top 10 nutrients for weight loss, according to Ellen Kamhi's book, "Alternative Medicine Magazine's Definitive Guide to Weight Loss." The liver is responsible for breaking down fat in the body, so promoting liver health is key to weight loss, advises nutritionist and "Fat Flush Foods" author Ann Louise Gittleman.