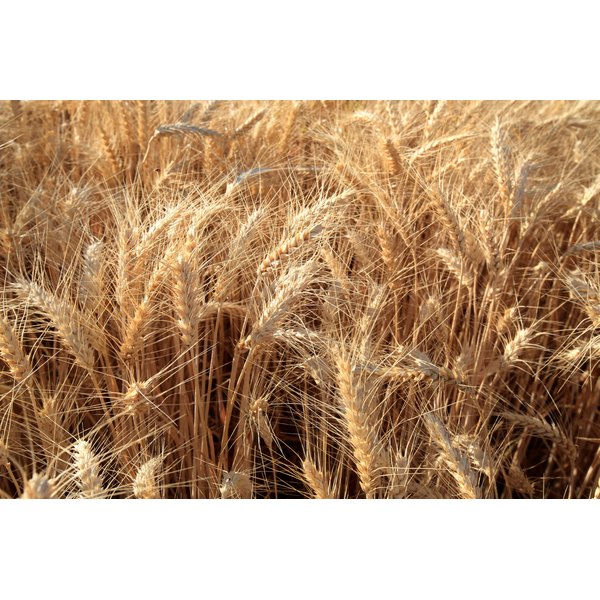 Wheat germ comes from the heart of the wheat kernel, and is rich in protein, B vitamins, vitamin E, iron, fiber and other important nutrients. Raw wheat germ has a mild, somewhat nutty flavor, and can be incorporated into cookies, bread, granola and other baked goods. You can also use raw wheat germ in any recipe that calls for breadcrumbs. Purchase wheat germ in natural food stores, co-ops and conventional grocery stores. Raw wheat germ begins to go rancid quickly after milling, so you need to handle and store it properly to maintain optimum freshness.
Buy fresh wheat germ. Raw wheat germ should be in the refrigerated section of the store. If the wheat germs is packaged, look for a milling date or expiration date. If the store sells wheat germ in bulk, ask how often the bin is refilled and if they properly rotate the product so that the older product gets sold first.

Purchase wheat germ in small amounts. Only buy what you will use in about two to four weeks, so that you will always have freshly milled wheat germ on hand.

Place your raw wheat germ in an airtight container. Use a canning jar, zipper top plastic bag or any plastic container with a tight lid. Transfer packaged wheat germ to a new container, unless it came in a tightly resalable bag.

Store your wheat germ in the refrigerator or freezer. Raw wheat germ that is kept at room temperature will begin to go rancid in a few days.

Toast your wheat germ to prolong storage. Spread a thin layer of wheat germ on a baking sheet and bake in a 250-degree Fahrenheit oven for 10 to 15 minutes, until the wheat germ is golden brown and fragrant. Many people prefer the taste of toasted wheat germ over raw wheat germ, but heating it may cause some of the vitamins and minerals to break down.

Tip

Raw wheat germ can be mixed into homemade baby food, but only in small amounts, because too much wheat germ may cause diarrhea. Infants under six months should not have any wheat products, and you should talk to your doctor to make your baby does not have a wheat allergy.

Warnings

People with celiac disease or gluten allergies should not have wheat germ.