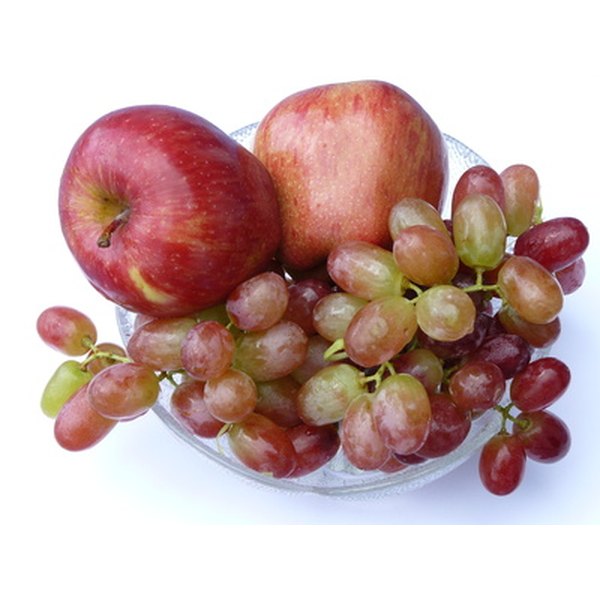 With many people out of work or struggling to make ends meet these days, you might find yourself working hard just to pay for basic necessities, sometimes sacrificing your health in the process. If you're on a budget but still want to eat nutritiously, take heart. There are many cheap ways to eat healthy.
Farmers Markets
Farmers markets are usually packed with cheap, fresh fare, including vegetables, fruits and meats. Buying fresh, local food is a smart option because you'll cut out the middleman's prices and avoid the additives and chemicals found in many mass-marketed foods. Food preservatives and additives increase free radicals in the body, which can contribute to aging. At your local farmer's market, choose items that are in-season to get the freshest foods and best deals. Buy in bulk to save money if you have a large family. If you are single, do not buy more than you can eat, as fresh food can spoil quickly.
Avoid Restaurants
Another cheap way to eat healthy is to cut down or even avoid eating out. Dining at restaurants is much more expensive, and less healthy, than eating at home. Even though fast food is cheap, you can still pay less for the same types of food at the grocery store and also cut out the extra fat and salt. Buying in bulk saves money, so buying individual burgers costs more than buying a family pack and preparing them at home. Eating out at a family-style restaurant costs an average of $12 per person per meal, totaling $48 for a family of four. On the other hand, the budget-savvy shopper could spend $20 or less at the grocery store to feed a family of four a healthy, home-cooked meal. If you do eat out, choose healthy items such as yogurt, sandwiches on whole wheat bread with no-fat sauce and fruit instead of chips.
Be Smart When You Shop
To save money on groceries, stock up on budget-friendly food that offers many nutrients rather than sweets and junk food that offer nothing but empty calories. Economical, healthy foods include potatoes, oatmeal, whole wheat bread, brown rice, low-fat yogurt, whole wheat pasta and beans. Watch for sales on fruit and produce and stock up on seasonal items because they are cheaper when they are in season. Get the most bang for your buck by reading food labels and choosing vitamin-enriched cereals and foods that are low in salt and fat. When buying animal products, choose lean cuts of meat and low-fat cheese, milk and margarine. For snacks, stock up on nutritious, filling items such as nuts, peanut butter, avocados and bananas. Also stock up on frozen vegetables, which retain their nutrients while offering the added bonus of lower prices.