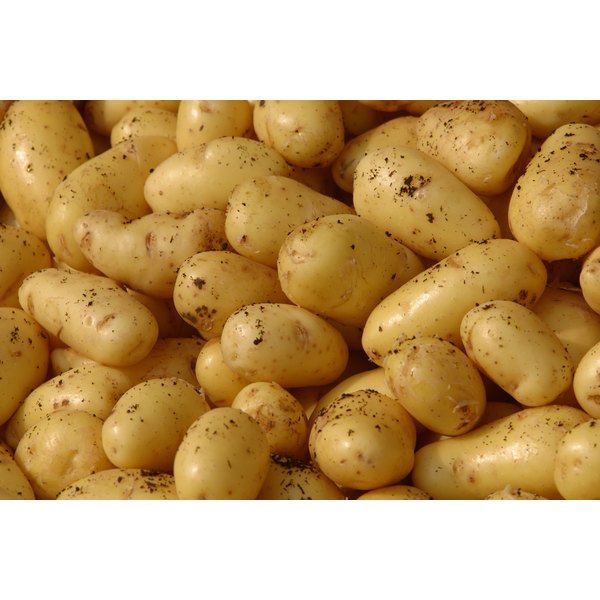 Vitamin B-6, also sometimes called pyridoxine, is a vitamin that is essential to maintain proper functioning of the body. According to the National Institutes of Health, or NIH, vitamin B-6 increases the amount of oxygen that the hemoglobin in your blood carries so that you have plenty of energy and you don't become anemic. While B-6 is available for purchase in supplement form, it's easier and less expensive to get your B-6 naturally by eating healthy foods.
Potatoes
According to the NIH, potatoes are a natural source of vitamin B-6, especially if the skin of the potato is eaten. The NIH states that a medium-sized baked potato with the skin on has about .7 milligrams of vitamin B-6, which is roughly 50 percent of most adults' daily recommended intake 1.3 milligrams. Try topping a baked potato with chili or sour cream and chives for a quick and nutritious lunch.
Bananas
Bananas are another good source of vitamin B-6. Experts at the NIH state that a medium sized banana has about .68 milligrams of vitamin B-6, which is more than 50 percent of most people's daily recommended intake for B-6. Bananas make an excellent snack or dessert and can be added to cereal or oatmeal in the morning for breakfast.
Yellowfin Tuna
A 4 ounce fillet of yellowfin tuna has 1.18 milligrams of vitamin B-6, which is over 100 percent of the amount of vitamin B-6 that you should be eating each day. Try replacing chicken or beef with a broiled fillet of yellowfin tuna once a week to increase your vitamin B-6 intake.
Bell Peppers
Try eating bell peppers if you are looking to increase your vitamin B-6 intake. One cup of sliced, raw, red bell pepper contains .27 milligrams of vitamin B-6. Bell peppers as an excellent source of vitamin B6 because a cup of bell pepper slices has more than 20 percent of your daily recommended intake of vitamin B-6, with only 25 calories.
Garlic
A single ounce of garlic contains over 15 percent of most adult's recommended daily intake for vitamin B-6. Using fresh garlic provides more vitamin B-6 than powdered garlic does. Since every ounce of fresh garlic has .35 milligrams of vitamin B-6, adding fresh garlic to soups and casseroles or on top of pasta will help you get your vitamin B-6 levels up, while adding spice and flavor.