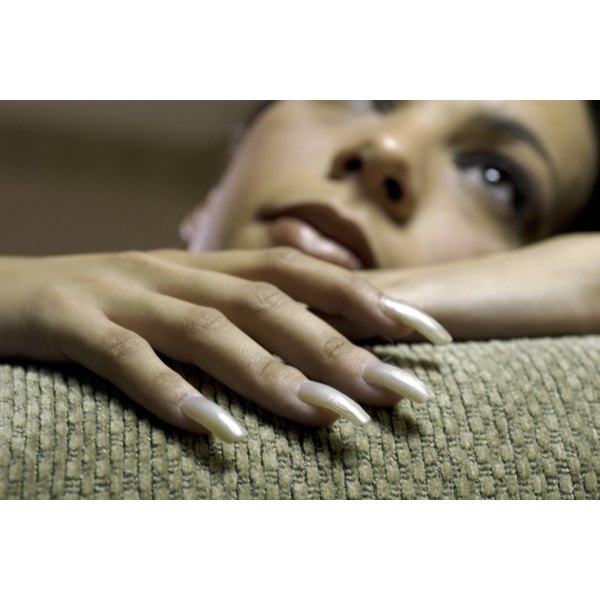 The impulsivity, irritability and excitability associated with bipolar disorder affects nearly 2 million Americans. Mood swings ranging from manic episodes to depressed states can be emotionally crippling and physically exhausting. Because diet and nutrition play a part in this cycle of instability, those with bipolar disorder must be careful about the foods they eat. Although vitamins and minerals alone are not likely to reduce symptoms of bipolar disorder, supplementing one's diet while taking medication will boost the beneficial effects of treatment while minimizing any potential side effects.
Consume greater quantities of omega-3 fatty acids. These acids are commonly found in fish such as herring, mackerel, salmon, tuna and trout. Fish oil contains eicosapentaenoic acid (EPA) and docosahexaenoic acid (DHA), both of which reduce the risks associated with cardiovascular disease and elevated triglycerides. Ingesting fish oil at levels of 0.5 to 1.8g per day modulates areas of the brain associated with mood and behavior, thereby reducing symptoms of bipolar disorder such as depression. If you're a vegetarian or simply don't like fish, consider taking supplements in pill form or try eating walnuts, flaxseed and canola oil, all of which increase omega-3 levels in the body.

Limit your intake of tyramine and alcohol if you are currently using psychotropic medication. Monoamine oxidase inhibitors (MAOIs) are powerful antidepressants often prescribed to people with bipolar disorder. Tyramine is found in many foods and can react with MAOIs, resulting in high or low blood pressure, diarrhea and headache. Foods high in tyramine include yogurt, liver, fermented sausages, lentils, lima beans, snow peas, bananas, figs and raisins. Mixing any type of alcohol with MAOIs is unwise. Doing so could worsen bipolar symptoms by causing hypertension or triggering a manic-depressive state.

Use salt consistently. A primary cause of bipolar disorder is an imbalance of sodium in the brain. For this reason, doctors often prescribe lithium, a sodium modulator. However, when you consume large amounts of salt, or stop using salt altogether, the lithium in your system exacerbates this imbalance, either rendering the medication ineffective or raising it to toxic levels. Moreover, imbalanced salt intake could lead to mental confusion, sweating, fever, diarrhea, kidney problems and water retention. Therefore, know how much salt you take in daily and keep this amount consistent with the dose of lithium prescribed for you.

Avoid foods high in saturated fat. Although 70 to 80 percent of bipolar patients respond to lithium, they must take the drug for several weeks before it becomes effective. For this reason, fast-acting psychotropics such as benzodiazepines, antipsychotics and antidepressants are usually prescribed in the interim. A potential side effect of antidepressants is weight gain. To minimize this, avoid high-fat meals and try to exercise regularly. Eat healthy vegetables and lean meats to reduce the risks of obesity and hypertension.

Drink water, milk or fruit juice instead of beverages high in caffeine. High caffeine intake worsens the symptoms of bipolar disorder and can trigger attacks. Typically, when someone with bipolar disorder is in a depressive state, he will consume higher levels of caffeine to elevate his mood, which may swing the person into a manic state by counteracting the sedative effects of benzodiazepines, inhibiting normal sleep patterns, heightening anxiety, elevating heartbeat and initiating panic attacks. Reduce caffeine intake by cutting back on chocolates, coffee, soda and other caffeinated food or drinks.