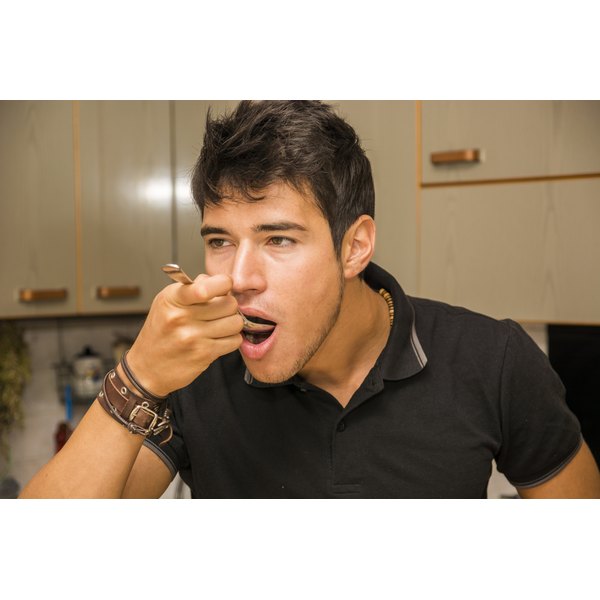 Iron is a necessary mineral that the body uses for production of red blood cells. Without the proper number of these cells, the body cannot stay in good health. Iron deficiencies can cause fatigue and increase your chance of infection. For some who have low iron levels and difficulty swallowing pills, liquid iron supplements may be a good alternative.
Natrol Liquid Iron
Natrol Liquid Iron contains 15 milligram of iron per serving, 81 percent of the daily recommended value. It also contains more than half the daily recommendation of B vitamins thiamin, niacin, B-6 and B-12, as well as 167 percent of the recommended vitamin C. Natrol Liquid Iron has a tropical fruit flavor and is naturally sweetened with honey and brown rice syrup. There are also cashews in this formula, so it is not for those with nut allergies.
Floradix Liquid Iron
Floradix Liquid Iron is made by Salus. It has 7.5 milligrams of iron per dose, with two doses suggested per day. Floradix Liquid Iron also contains vitamin C and B-complex, amounting to recommended daily doses. This supplement has some interesting additions, including carrots, spinach, nettles and African mallow blossom. Its sweet flavor comes from grape juice, pear, cherry, carob extract and a number of other fruits and plants.
Floradix Liquid Iron salusuk.com/products/floradix.html
Liquid Ionic Iron
Trace Minerals makes Liquid Ionic Iron. It contains no vitamins, but does have magnesium, chloride, sulfate and boron. A servicing of Liquid Ionic Iron has 22 milligrams of the mineral. This product contains naturally occurring minerals from ConcenTrace®, which is found in the Great Salt Lake. Liquid Ionic Iron is a vegetarian formula. The only other ingredients are purified water, citric acid and potassium benzoate.
Ferrous IPS Liquid
Ferrous IPS Liquid is produced by Pharmics. The only active ingredient in this supplement is iron, from iron protein succinylate (an iron compound). The adult dose of 15 ml. per day contains 40 milligrams of iron. Other ingredients--used to improve the taste and preserve the product--include water, sorbitol, casein, sodium hydroxide, strawberry flavor, and saccharin. The casein is a milk protein that makes the product more easily digestible.