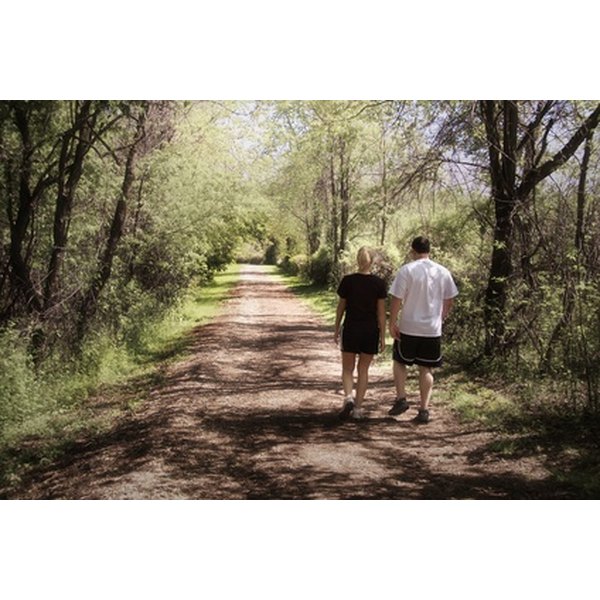 According to a study in the January 2010 "Journal of the American Medical Association," the prevalence of obesity among men and women in the United States was more than 32 percent and 35 percent, respectively, during 2007-2008. Weight loss will not only help reduce these numbers, but also aid in controlling obesity-related conditions such as diabetes and hypertension. To lose weight effectively and successfully, however, there are a series of stages you must achieve, similar to the stages you would have to achieve to make any type of lifestyle change. Knowing about these stages and what they entail will help keep you informed and on track to meeting your weight loss goals.
Stage 1: Precontemplation
During this stage, you might recognize you have a weight problem in the back of your mind, and others may recognize it as well, though they hesitate to acknowledge it, according to ShapeFit. You may often ignore the problem or convince yourself it is not a big deal.
Stage 2: Contemplation
During this stage, you become more aware of the problem and how it will continue to become a bigger issue if you do not do something about it soon, ShapeFit suggests. You become more open to talking about the problem and although you have not taken any actions yet, you are open to exploring what help is available.
Stage 3: Preparation
There are several steps you can take to prepare yourself for the journey that awaits, suggests MotleyHealth. The first is to never miss breakfast. Breakfast helps boost metabolism and will reduce your likelihood of snacking later during the day. Recruit and exercise buddy and regularly vary your activities. A buddy will hold you accountable and by changing your activity, there's little chance you will get bored. Join a weight loss support group where you will meet people just like you with whom to share your experiences. Finally, learn how to cook healthy, nutritious meals and throw out all of your junk food.
Stage 4: Taking Action
This is the stage during which you actively are taking steps to lose weight. You are following a regular routine of healthier habits, which should include drinking more water, watching your portion size, reducing your stress level, finding an exercise activity that you really enjoy and sticking to it, and you're getting friends and family involved in your journey, according to MotleyHealth. It's also important that you learn to enjoy yourself and have fun once in a while. Otherwise, you are at risk of boredom, which is one of the reasons people fail to continue their way to success.
Stage 5: Maintenance
During this final stage, your focus is on the healthy behaviors you have adopted to get to where you are, ShapeFit suggests. You have developed a plan of action that helped you achieve your goal, but it is important to maintain your healthy diet, according to MotleyHealth. Recognize that you will have bad days, but it is crucial not to punish yourself and not give up. By losing weight, you have become much healthier and it is so important to maintain your activity level.