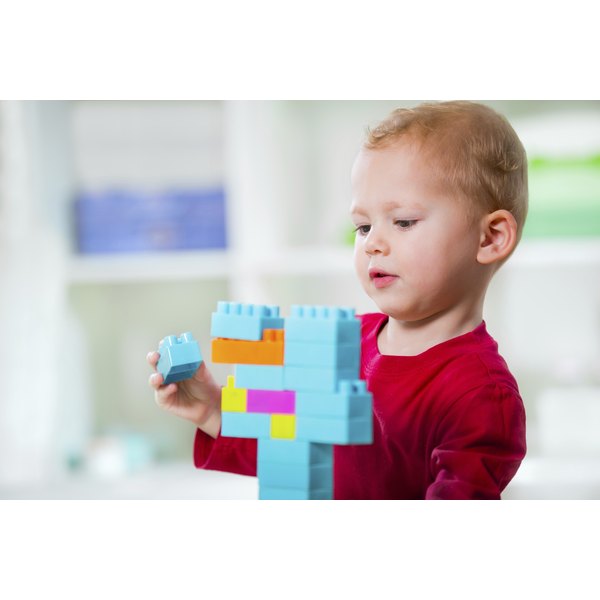 As your baby matures into toddlerhood, it's helpful to understand where she is developmentally so that you can engage her skills and develop them further. While each child develops differently, most 19-month-old toddlers are eager to please and help. This is a skill that's worth growing, so that when she's 7 you're not still teaching her to pick up her room or put away her laundry. Games provide an opportunity to not only engage in some fun play with your child, but also a way to continue her development.
Block Play
Sit down with your 19-month-old and a big group of blocks. The blocks help your 19 month old's spatial reasoning, patterning, shapes and sizes. Build things, or simply take turns stacking to help reinforce the concept of taking turns, and then have fun knocking them down. You don't need to buy blocks that are from a store--clean containers, such as a shoe box or yogurt container, provide ample fun.
Provide a basket or shelf for the blocks and have your child help you put them away to reinforce the helpfulness that many 19-month-olds are developing. He may not put them away perfectly, but it's critical to encourage this skill and allow it to develop if you'd like him to be responsible for cleaning up his toys as he grows up.
Laundry Basketball
Laundry basketball is simply getting the clothes into the hamper or laundry chute, but with a 19-month-old, the whole process becomes a game. At night, have your child "shoot" her clothes into the "basket" -- the hamper or chute -- before she gets into the bath. Not only does this make getting ready for bath more fun as you give her points for "nothing but net" and allow her a re-shoot for items that miss the basket, it also continues the 19-month-old's interest in helping and pleasing. It also creates the foundation for your child's participation in the laundry process, a constant chore for busy families.
Play House
The day can be filled with small chores around the house. Make some of the clean up a game with your 19-month-old. Invite him to help with the dishes by letting him put the dirty spoons in the dishwasher. Avoid sharp knives and forks that can spear him. Then have him help out by washing the running board on your car, or the tires if that's what's in his reach. Make sure to praise his effort, not the results, as few 19-month-olds are able to clean properly. The goal is to make the chores fun, attract his interest in helping and set the foundation for future skills.