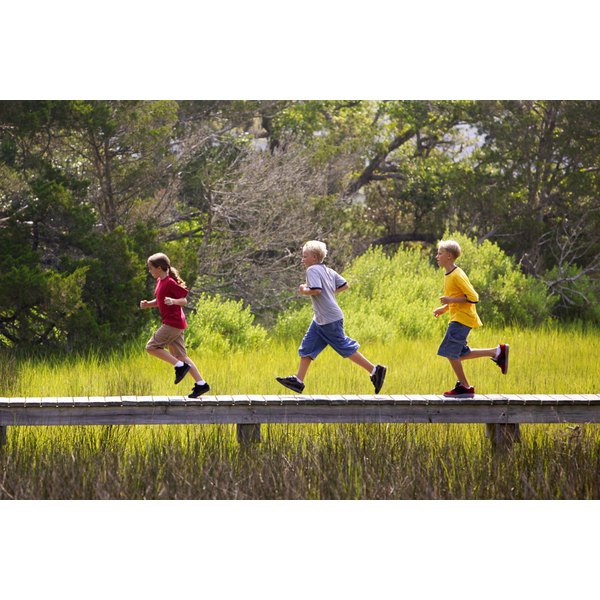 Young children possess a natural propensity to be active. They love to play outdoors in their neighborhoods and parks, and it is important for parents to encourage physical play from the time their children are mobile. You can help your child develop good running skills and learn to run faster by employing a few easy tactics. Soon, you will have the fastest 4-year-old on the block.
Dress your child appropriately so that she is comfortable running. Pay special attention to her shoes, which should fit well, be lightweight and be designed for physical activity.

Hit the track with your little one. Measure off distances for your child to run. Bring along some of her friends and set up relays in which they pass off a baton to their teammates the same way they do in the Olympics.

Time each other with a stopwatch. Kids love gadgets and will get a kick out of finding out how fast they run and comparing it with how fast you run. Explain ahead of time that you will likely go faster thanks to your longer legs and experience, so your child will not be disappointed. Don't always take a stopwatch with you when your child runs, but do so from time to time so she can see her progress as her times drop over time.

Offer your child some tips on running form. If he is taking large steps and lifting his knees high in front, encourage him to take smaller, faster steps. When you run with him, use small steps he can match so he's not trying to match your longer stride.

Stop when your child is tired. Preschoolers do not have much endurance and need to rest frequently. Also, if your child begins to fuss or exhibits boredom, it is time to stop for the day. According to Kids Running, you should not have your child running every day. Instead, let him rest for a couple of days before getting him back in the groove.

Gradually increase the distance your child runs over time. Set flexible goals that you do not necessarily have to share with your youngster. Use these goals to keep your child's running on target.

Enter your child in races. Look for local events that have a 6 and under age event. If there is nothing in your area, plan your own races with neighborhood kids or young children in your kid's daycare or playgroup.

Tip

Create fun games that involve running for your young child. You can have him run with a beanbag clutched between his knees, race arm-in-arm with a partner or have him mimic the running styles of particular animals. According to 1 Speed Training, making running enjoyable is the most important thing in getting a child to run fast.

Warnings

Always check with your child's doctor before adding new exercise to her routine.