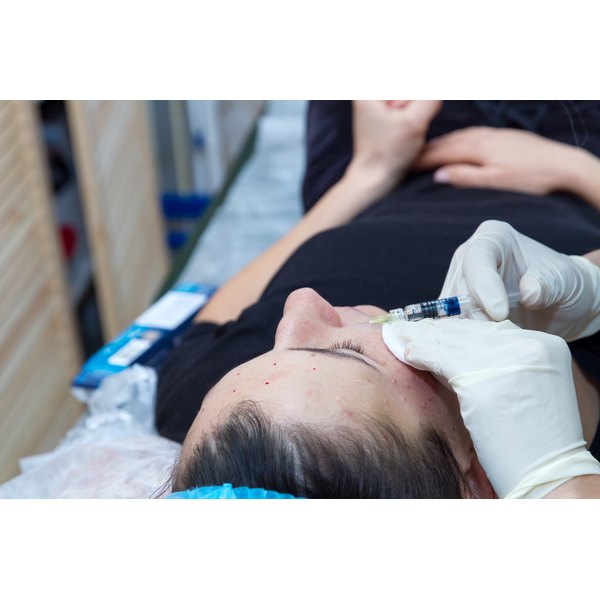 Collagen has a long history of cosmetic use in treating acne scars, as well as fine lines and wrinkles. Bovine collagen was introduced in the 1970s, says the American Academy of Dermatology (AAD), and was dermatologists' soft tissue filler of choice until the early 2000s. At that point, human bio-engineered collagen was approved by the U.S. Food and Drug Administration. Although more long-lasting filler types have since been introduced, collagen treatment for acne scars continues to be used by dermatologists.
Why Collagen?
According to the AAD, the skin is made up of three main components: hyaluronic acid, elastin and collagen. When injected into a depressed acne scar, collagen causes the skin to "plump," making scars less noticeable. The American Society of Plastic Surgeons indicates that human collagen fillers may go by trade names of Cosmoderm or Cosmoplast. Bovine collagen fillers such as Zyderm and Zyplast have been known to result in unpleasant skin reactions. Before receiving bovine collagen treatment, patients must undergo allergy testing.
How It's Done
Liquid collagen is injected into the skin's surface using a needle-tipped syringe. Skin is thoroughly cleansed before injection. A dermatologist may ice the area or apply a topical anesthetic to desensitize the skin before injection. An in-office collagen treatment only takes a few minutes.
Side-Effects
Collagen fillers and other filler types are popular, as they don't put patients out of commission, the AAD notes. Patients can resume their lives immediately after treatment with minimal side effects; women can even reapply makeup before they leave the dermatologist's office. The AAD indicates that redness and swelling may occur, and in some cases light bruising. To reduce these side effects, patients may be advised to apply ice to the skin 15 to 20 minutes post-treatment.
How Long it Lasts
Collagen treatments don't last forever, with results lasting between two and four months, the ASPS says. Once the collagen is reabsorbed into the skin, another injection is necessary. There are longer-lasting fillers available, one using the patient's own body fat to fill the scar. Yet another type of filler, polymethylmethacrylate--a combination of bovine collagen and micronized plastic spheres--yields permanent results.
Drugstore Products
Some over-the-counter anti-scar creams may encourage new collagen production in the skin, the AAD notes. However, the benefits of these products are extremely limited. Those with very faint, round acne scars may notice some improvement when using products that contain glycolic acid, retinol or vitamin C as an active ingredient.