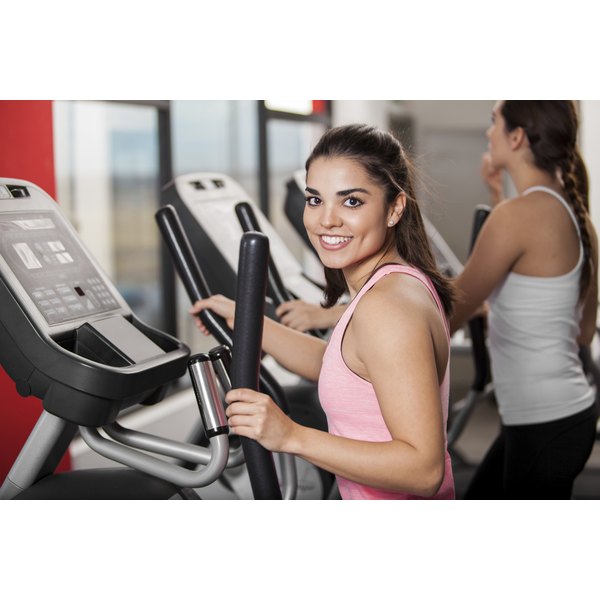 Saddlebags consist of fat located around the hips and thighs. Saddlebags can be a woman's worst nightmare, but with patience and persistence they can be whittled away. If you have this stubborn fat, know that there are six ways to rid your hips and thighs of unattractive saddlebags.
Six Ways to Lose Your Saddlebags
Perform aerobic exercise five to six days a week for increments of 45 to 60 minutes per session. Exercises that can annihilate your saddlebags include jumping rope, running, swimming, tennis and walking.

Reduce your caloric intake by adding low-calorie, high-quality foods into your daily diet. Low-calorie foods include broccoli, cauliflower and kale, and protein rich foods include chicken, fish and turkey.

Drink adequate amounts of water to increase your metabolism and reduce water retention. Water retention, which happens when your body does not get enough water, can make saddlebags appear larger and dimply. Strive to drink 1 ounce of water for every 2 pounds of body weight daily.

De-stress by drinking green tea, which can calm anxiety and help maximize fat oxidation. Incorporate aromatherapy into your daily routineto reduce nervousness and curb your appetite. Use scented candles and oils twice a week in 10-minute intervals for stress relief.

Get enough sleep so that you will be able to regulate hormone levels. A lack of sleep can cause an imbalance in hormone levels and cause the body to store fat.

Do strength training exercises that focus on toning the lower body, specifically the thigh area where saddlebags accumulate. Strength-training exercises that tighten and tone the thighs are squats and lunges. By performing three sets of 10 to 12 reps of these exercises two to three times a week you will also be building muscle, and that can boost your metabolism, increasing your body's ability to shed fat.

Tip

To boost caloric burn, add circuit training into your workout routine. Circuit training can increase muscle mass and improve cardiovascular fitness, which helps to decrease saddlebags. For optimal results you should circuit train two to three times per week for 30 to 45 minutes per session.

Warnings

Before attempting any weight loss program you should first consult your primary care physician to determine which types of weight loss strategies may be right for you.