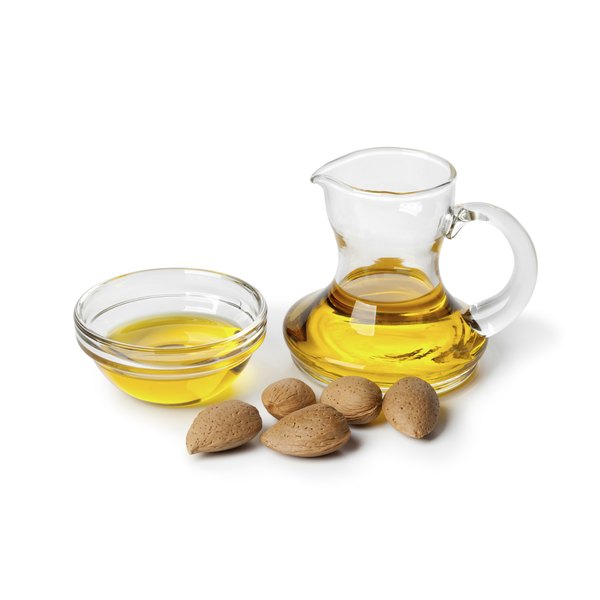 While nutritionists tout the health benefits of eating almonds, the football-shaped brown nut also does some good when applied directly to skin and hair. With a modest amount of almond oil -- try cold-pressed virgin, the highest quality -- you can experience comfort and healing from the top of your head to the tips of your toes.
Hair and Scalp Health
Almond oil can help make frizzy and damaged hair smooth, soft, strong and shiny because it contains nutrients such as fatty acids, magnesium and other minerals, several B vitamins and vitamins A, D and E. A good conditioner for hair and skin, almond oil can be massaged into the scalp while treating your tresses. Allow it to stay on about 45 minutes, then rinse away or leave it on overnight for a deep treatment. Light and naturally fragrant, almond oil naturally relieves itching and irritation. For damaged hair, combine a few drops of almond oil with a ripe banana and leave the mixture on your locks for 15 minutes. Rinse it out with seltzer water before shampooing and conditioning.
Your Skin All Over
Because almond oil helps skin absorb moisture, it's beneficial when applied to the body in its pure form or combined with body creams or lotions. Soothe an infection, allergic reaction or sunburn by applying almond oil to the affected area. Indulge in a weekly foot soak that includes almond oil, other natural oils and Epsom salts. It nourishes, heals and moisturizes chapped skin on your feet and even on your hands Replace the Epsom salts with a drop or two of lavender or rose oil for relaxation and aromatherapeutic benefits.
A Clear Complexion
Because it's not heavily greasy or strongly fragrant, almond oil can help promote a clear and healthy complexion without causing irritation. It's an ingredient in cleansers and moisturizers, where its hydrating properties can help minimize visible signs of aging. Use it also to treat chapped lips. Apply almond oil to your face after washing in the morning and at night. For the anti-aging benefits of exfoliation, combine a tablespoon of almond oil with one-half cup of finely granulated sugar. Rub gently in circular motions on a damp face, then rinse. Apply makeup over a thin layer of almond oil, or use the oil to help remove makeup, including waterproof mascara.
Special Treatments
Darkened areas of the skin, such as dark circles under the eyes or blotches on your face, can benefit from almond oil. Blend a few drops of the oil with a teaspoon of honey or milk powder and apply the mixture directly to discolored skin. Apply almond oil to treat eczema and acne, and rub it into stretch marks to minimize their appearance. For dry ashy elbows or knees, blend 3 tablespoons of almond oil with two tablespoons each of cornmeal, sea salt and yogurt. Scrub the dry areas, rinse, pat your skin dry and apply almond oil or another cream or lotion to seal in moisture. Before using almond oil, check with an allergist or test the product first on a small area of skin.