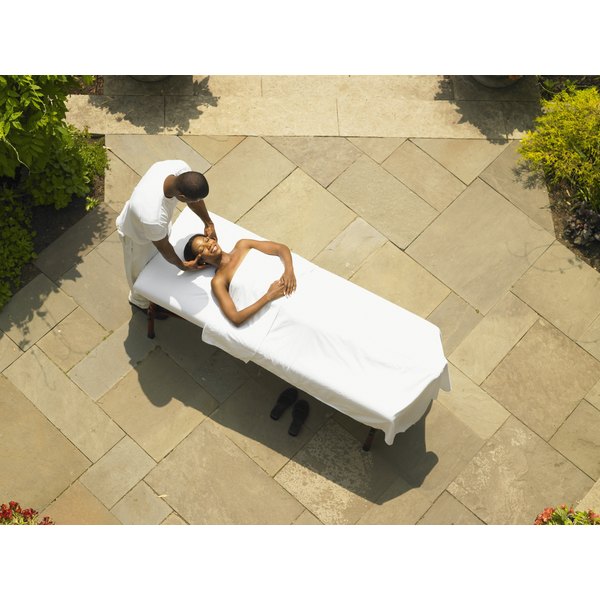 Turning 50 is cause for both soul searching and celebration. Make your mom's birthday memorable with more than just the usual retrospective presents by showing that you care about her future. As gift ideas, share activities or give gift certificates that appeal to your mom's uniquely beautiful body, mind and spirit. She'll know you appreciate her for who she really is—as a mother and as an individual. Pair a 50th birthday experience with keepsake photos of the event.
Body
Gift ideas to pamper as well as to promote good health make excellent salutes for a 50th birthday. For the waking hours, share a favorite sport or physical activity, such as a long hike or game of tennis, followed by a booked massage at a day spa. For sweeter dreams, celebrate mom's birthday with a cornucopia of bedroom accessories. A memory foam mattress topper and pillow can dramatically improve the quality of your mom's sleep. Add some bedtime tea, an eye pillow, a white noise machine and a gradual light alarm clock to top it all off.
Mind
Every mom needs more "me" time, and a 50th birthday is the time to give it to her. Help your mom pursue her life's passions. Free her from other duties to attend a class that interests her, or enroll her in the creativity workshop of her choosing. Fun and educational gift ideas abound in writing, painting, cooking, travel or any avenue that she loves or has always wanted to try. Community centers, colleges, arts groups, lifestyle coaches and online learning resources all offer programs for various interests and skill levels. Commemorate mom's birthday with a graduation certificate signed by her classmates.
Spirit
Ask Mom whom she would most want to spend her 50th birthday with, and then make it happen. Help her plan a dream brunch for a dozen old friends or a daylong bash for 50 of her closest friends, clients, colleagues and family members. Hire or designate a photographer or videographer to record the smiles and laughter. Or acknowledge your mother's need for some restorative time alone at the beach or a mountain cabin. Plan a small gathering there for Mom's birthday, and then leave her to enjoy the gift of solitude. Additional gift ideas for the spirit include inspirational books and recordings.