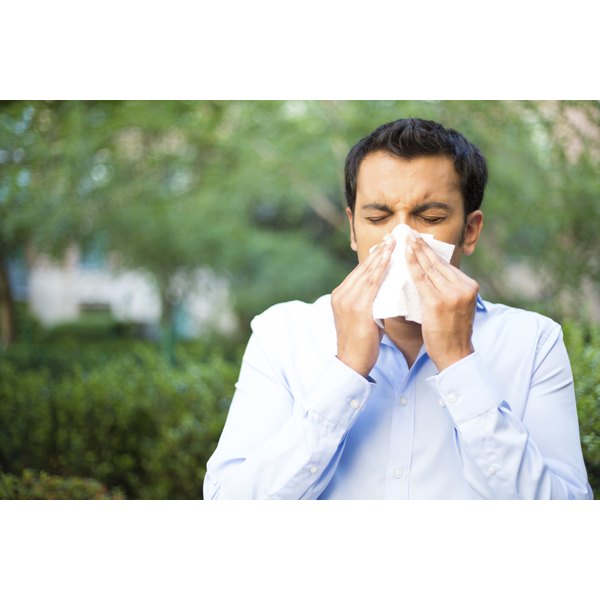 Phenylephrine hydrochloride is indicated for congestion of the nose, sinus and eustachian tubes; paroxysmal supraventricular tachycardia (short bursts of rapid heart rate); anesthesia support; vascular failure in shock; eye conditions; and eye procedures. It is available over-the-counter and by prescription and can be used in oral form, by injection, as an ophthalmic solution and by nasal solution. According to 2005 Lippincott's Nursing Drug Guide, elderly patients are more likely to suffer side effects from this medication.
Side Effects from Oral and Injection Use
Common neurological side effects of phenylephrine include headache, dizziness, light-headedness, anxiety, fear, restlessness and tension. Less common neurological side effects include seizures, paranoia, hallucinations, drowsiness, insomnia, tremor, weakness, psychological changes, a syndrome of slow breathing and slow heart rate that can lead to unconsciousness, blurry vision, eye sensitivity to light, eye watering and eye irritation.
A common urinary side effect is difficult or painful urination. The first injection of phenyephrine can lead to the common side effect of low volume of urine. A less common urinary side effect is constriction of the blood vessels of the kidney.
Other common side effects include paleness and nausea. Less common side effects include heartbeat irregularities (which can be life-threatening), difficulty breathing, muscular contractions of the mouth or face, numb or tingling hands or feet, loss of appetite, vomiting and sweating. When given intravenously, the drug can cause the side effect of tissue death if the fluid flows into the tissue under the skin.
Phenylephrine can also cause severe allergic or hypersensitivity side effects, including swelling of the face, mouth, tongue and throat, which can lead to breathing difficulties. Hives may also occur as an allergic side effect.
Side Effects from Use in the Eye
Common side effects from use of phenyleprine hydrochloride in the eye include stinging, blurry vision, headache and pain in the eyebrow area. Less common side effects include colored deposits in the eye or eyelid, sensitivity to sunlight and difficulty seeing at night. If used to dilate the pupil, this drug may cause the side effect of pupil constriction when it wears off. When administered in the eye to elderly patients with heart problems, their blood pressure may rise significantly.
Side Effects from Use in the Nose
Common side effects from use of phenylephrine in the nose include burning, stinging, blurry vision and rebound congestion. Rebound congestion--meaning the nasal passages swell back to the extent at which they were originally swelled--can lead to tolerance and drug misuse. Less common side effects include nasal membrane dryness, sneezing, eye irritation and watering, and skin inflammation.