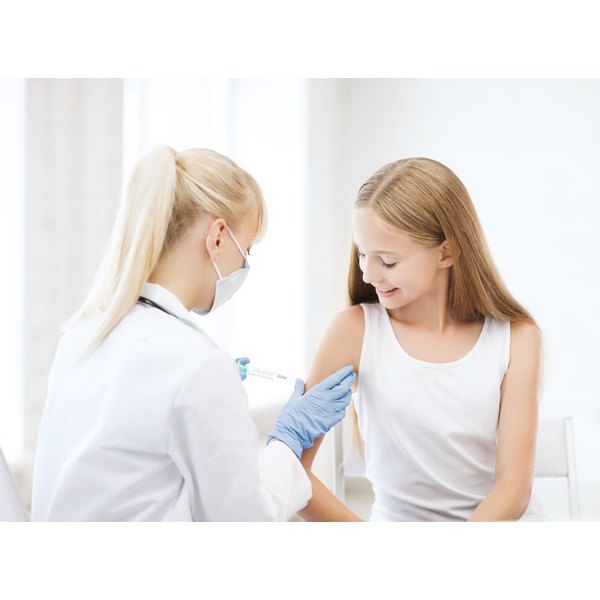 Enbrel (etanercept) is a medication used to manage the following medical diseases: psoriasis (autoimmune skin disorder), ankylosing spondylitis (joint disease of the spine and pelvis) and psoriatic, rheumatoid and juvenile idiopathic arthritis. Enbrel belongs to a class of medicines called tumor-necrosis factor (TNF) inhibitors. It stops TNF from provoking inflammation in your body. Typically, you will receive two 25 milligram-dose injections three to four days apart.
Common Side Effects
In a placebo-controlled study of 349 patients receiving Enbrel injections, the National Library of Medicine says that 37 percent developed swelling, redness and irritation at the injection site, 35 percent developed a generalized bodily infection, 29 percent had an upper respiratory infection such as a cold and 17 percent experienced a headache. Additionally, 9 percent had nausea, 12 percent had rhinitis (allergy symptoms such as a runny nose), 7 percent developed dizziness and pharyngitis (sore throat), while 6 percent developed a cough. Enbrel's other common side effects include a fever, chills, unintentional weight loss and shortness of breath. Call your doctor if these side effects remain for at least three days.
Serious Side Effects
Enbrel's dangerous side effects include convulsions, itching, hives, visual problems, dizziness, trouble breathing and tingling or numbness. It can cause leg or arm weakness, a light-sensitive facial or arm rash, bleeding and bruising. Enbrel's other serious effects include blistering or pale skin and edema (swelling) of your extremities, face, lips, eyes or tongue. Drugs.com says that Enbrel may cause hemoptysis (coughing up blood), mood changes, chest pain, joint pain, muscle aches, bloody or black stools and swollen glands. Go to the emergency room right away when you have these side effects.
Enbrel can also increase your risk of getting tuberculosis, as well as fungal and bacterial infections. Also, Enbrel can cause cancer in children and teenagers.
Other Side Effects
Enbrel can cause alopecia (hair loss), vomiting, mouth ulcers, psoriasis (skin disease) exacerbation, depression and kidney calculus (stones). It can increase your chances of developing a myocardial infarction (heart attack), heart failure, gastrointestinal bleeding, pancreatitis (inflammation of your pancreas), cerebral ischemia (stroke) and a pulmonary embolism (blood clot in your lungs). Enbrel can cause anemia (low red blood cell counts) and neutropenia (low white blood cell counts). Anemia leads to fatigue while neutropenia makes you susceptible to infections.
Additional Concerns
Do not use Enbrel if you are allergic to it. Difficulty breathing, hives and angioedema (life-threatening swelling of your throat, tongue and lips) may result. Tell your physician whether you have a history of tuberculosis, chronic infections or uncontrolled diabetes. Enbrel can potentially reactivate your tuberculosis and cause further infections. Avoid Enbrel if you have a history of hepatitis B. Enbrel can reactivate this liver infection. Tell your doctor if you have diabetes, congestive heart failure, a weakened immune system, epilepsy, asthma, any nerve disorders or any infections. Enbrel may exacerbate these conditions and lead to the aforementioned side effects. Avoid getting a vaccine containing a "live" virus. Enbrel lowers your immune system and makes you susceptible to getting this virus. Tell your physician if you are taking anakinra, sulfasalazine, cyclophosphamide, or steroids and cancer medication. These medications may combine with Enbrel and cause potentially adverse side effects as previously mentioned.