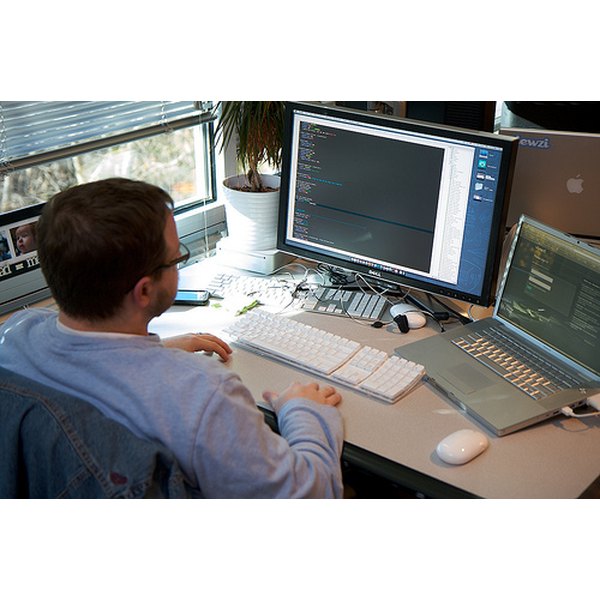 Proper work attire varies depending on the job you do and the workplace culture, but certain rules apply to most professional situations. If your company publishes a dress code, follow it. In the absence of a dress code, go for a neat, low-key appearance that presents you in a positive way.
Purpose
You are judged by your performance in the workplace, but your appearance counts too. Dressing professionally shows others that you pay attention to details and respect yourself and others. It can lead to your supervisor, co-workers and customers thinking highly of you. When you dress properly for your job, you appear competent and feel confident.
Guidelines
In general, men who work in a formal atmosphere should wear a suit and tie. Otherwise, dress slacks and a dress shirt or golf shirt are acceptable. Women can wear dresses, skirts or pant suits in a formal environment and dress pants and blouses or shirts otherwise. Both sexes should wear polished shoes; a 2-inch or lower heel is appropriate for women in most professional situations.
Accessories
Accessories should be understated, although one statement piece might work with an otherwise neutral outfit. Most workplaces are not the right environment for big hoop earrings or ostentatious bracelets, necklaces, rings and other jewelry, or for stiletto heels. Piercings and tattoos should be kept hidden if possible while you are at work, especially if you work directly with customers or clients in a conservative business.
Impression
Strive to make a conservative, well-styled impression when you dress for work. Clothing should not be too loud, short or revealing. Your clothes should present an attractive picture; they should not draw attention to you for any of the wrong reasons.
Considerations
Even if you work in a casual workplace, there are times when you may need to dress more formally. For example, you will want to make a good impression when clients or potential new customers are visiting. You may also want to dress more formally for a meeting that is attended by upper management.
Warning
Some workplaces observe casual Fridays or have an overall casual dress code. This doesn't mean you can disregard professional dress etiquette. Certain guidelines should be followed, even when you work in a casual atmosphere. Clothing must always be neat, clean and in good shape, without visible tears, fraying, stains or signs of wear. Dress a bit better than expected. For example, choose khakis and a golf shirt instead of a T-shirt and blue jeans.