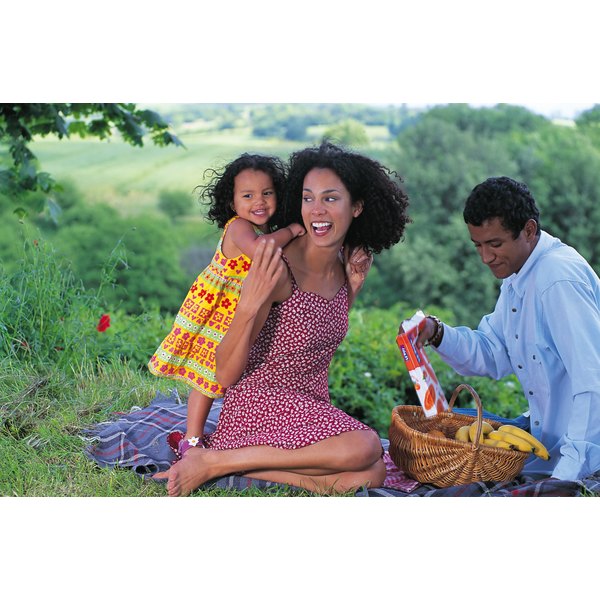 When it comes to African-American families, several distinct cultural differences exist when compared with their white, Asian-American and Hispanic counterparts. Child-rearing practices also differ as a result of social, economic and familial factors among African-Americans.
Family Numbers
Within African-American families, conditions vary depending on the members who are present in the particular household. When looking at African-American families from a child's perspective, according to psychology professor Melvin N. Wilson with the University of Virginia, one will see a distinct point of view. Statistically, the African-American child is more likely to be raised in a single-parent family (41 percent) than a dual-parent family (40 percent). The remaining families (19 percent) involve a joint effort of child-rearing between one parent and an extended family member.
Gender Differences
Parenting styles among African-American families will also differ from other cultures as a result of the number of children in the family. A study titled, "Parenting Styles African American and White Families with Children -- Findings from an Observational Study" on the University of North Carolina website, indicates that parenting traits associated with African-American families include higher levels of negativity in the household that depend entirely on factors within the given family. One of these factors is the sex of the children. The study found that while African-American parents display "higher levels of negativity" (harsh commands, restrictiveness, detachment) toward their male children than average, this statistic does not apply to their female children.
Discipline
African-American families tend to favor a disciplinarian approach to child-rearing. In a 2002 study published by the American Sociological Association, it was found that a significantly large number of African-American mothers take the authoritarian approach to parenting when compared to their white, middle-class counterparts. This study was based on the observation of 302 African-American adolescents and their mothers. Results revealed that a family's social and economic status might have a lot to do with the chosen approach to parenting. The study suggests that Authoritarian child-rearing is more popular among African-Americans as a result of preparation for challenges that come with racism, discrimination and poverty.
Religion
African-American child-rearing is strongly influenced by religious belief when compared to Anglo-American child-rearing, according to the American Sociological Association study. This is clear even when looking at different social classes within the African-American community. The study involved the interviewing and observation of a group of children ages 8 to 10 and their families at a Midwestern community school. Thirty-two children (19 African-American and 16 white) of various social classes were selected for separate interviewing. It was found that activities such as Bible camp, church choir, Sunday school and Bible study were prominent among African-American families, transcending class barriers. This was compared to activities such as soccer camp and piano lessons in white families.