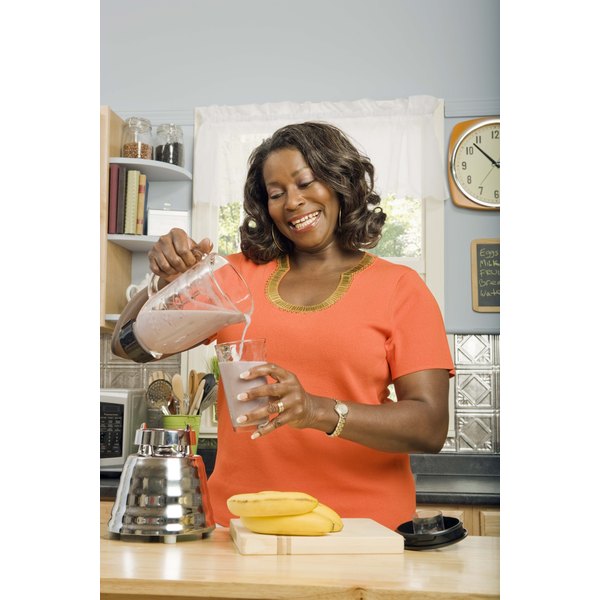 A blender and some common kitchen ingredients, such as milk, yogurt and fruits, can help you blend a fruit smoothie that acts as a meal supplement. In the traditional sense of the word, a meal supplement acts to enhance a meal, giving you extra nutrients and calories. However, a meal supplement also can be a meal replacement, meaning fruit smoothies can be a low-calorie alternative to a higher-calorie option that's not as nutrient-dense. Knowing how smoothies can enhance your nutritional intake can help you maximize their benefits.
Nutritional Benefits
Fruit smoothies can serve as a beneficial meal supplement when compared with drinks such as diet soda, coffee or high-sugar beverages because smoothies have nutritional value, according to Katherine Zeratsky, R.D., L.D., a registered dietitian writing on MayoClinic.com. When prepared with low-fat dairy products, fresh fruit and high-protein sources such as protein powder or ground flaxseed, fruit smoothies can provide vitamins and minerals, such as calcium, that you may not otherwise take in during a meal.
Supplements for Weight Gain
As a meal supplement, fruit smoothies can enhance weight gain in those who are underweight, according to "Today's Dietitian," a magazine for nutrition professionals. Being underweight can be dangerous to your health because it affects your immune system and ability to absorb nutrients. Unwanted weight loss also can be a side effect associated with illness, such as cancer. Smoothies prepared with whole milk, ice cream or dry milk powder can add hundreds of calories to your nutritional intake during a meal. When consumed regularly, this can help you gain weight.
Weight Loss
In some instances, the term meal supplement can be used interchangeably with meal replacement. When prepared with low-fat ingredients, fruit smoothies can be a low-calorie alternative that helps you cut calories in your daily diet, according to Joy Bauer, a nutrition expert and author featured on MSNBC.com. Bauer recommends blending 3/4 cup skim, almond or soy milk with one scoop of protein powder, three to five ice cubes and fruits of your choosing, such as berries, peaches, bananas and strawberries. Depending upon the fruits you add to your smoothie, a 2-cup serving can provide about 300 calories and lots of nutrients, according to Bauer.
Smoothie Tips
If you are using smoothies to gain weight, you may wish to consume them either 30 minutes before or after a meal, recommends Zeratsky. This can help to keep you from becoming too full to consume your meal. Also, you should not add raw eggs in smoothies because of the added risk for food poisoning, according to The Physicians of Saint Louis University. Although eggs might be a source of protein, they are unsafe to incorporate into your smoothies. Another tip to improve your smoothie's flavor is adding flavor extracts, such as lemon, coconut or black walnut. These can make fruit smoothies more palatable.