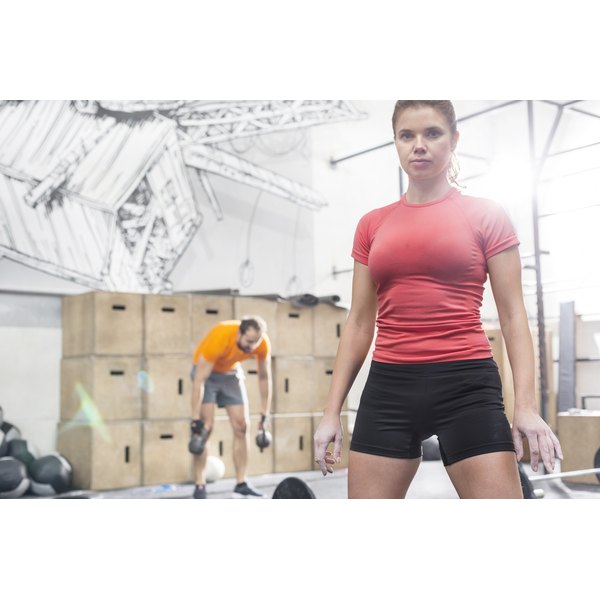 The Insanity workout is an intensive 60-day diet and fitness regimen that is designed to tone and strengthen your body while you lose weight. The nutrition element of the Insanity program dictates that the program participant eat five small meals per day. While a participant could follow the fitness part of the Insanity program and follow his own three-meal-a-day nutrition program, he would not be following the Insanity program as it is directed.
Insanity Exercise Program
The Insanity program was developed by a personal trainer named Shaun T. The program rests on an exercise component and a diet component. The exercise portion of the program requires that participants exercise for 30 to 60 minutes each day, alternating high-intensity cardio workouts with strength training and conditioning. The 10 workout DVDs work each part of the body, from the legs to the chest and back. The exercise portion of the Insanity program is intense and requires participants to work at 85 percent of their maximum heart rate.
Insanity Elite Nutrition
The Insanity Elite Nutrition program is designed to support the fitness portion of the program, giving you a balance of protein and carbohydrates to keep you energetic. This nutrition plan is not a crash diet designed to starve you into losing weight. Instead, it is a comprehensive nutrition plan that you can follow for the rest of your life to help maintain your health and fitness levels. At the heart of the program is a five-meal-a-day plan meant for athletes.
Effects of Three Meals per Day
The Insanity Elite Nutrition plan is not low-calorie. If you eat too few calories or focus on eliminating either fat or carbs, you will not have the elements you need to fuel an extreme high-calorie-burning workout like the Insanity workouts, according to the "Insanity Elite Nutrition Guide." For best results, participants should adhere to the nutrition guidelines set forth by the Insanity program rather than try to reduce calories by eating only three meals a day.
When to Consult a Nutritionist
Consult a physician or a nutritionist before you embark on the Insanity program -- particularly if you are diabetic or have special dietary needs. A physician or nutritionist might be able to help you design another diet plan that can accommodate your dietary needs. Those with chronic illness, who are extremely overweight or pregnant should consult a physician before beginning any fitness program. People with these conditions may need to consider a less strenuous fitness program that is more appropriate for their needs.