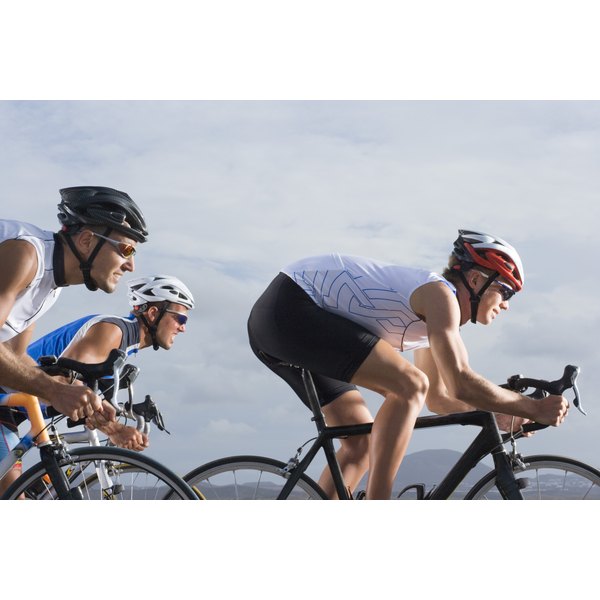 Making your bicycle as light as possible can help minimize the amount of extra work you have to do during a bike race, potentially improving your final time. Be careful, however, that you don't lighten your bike beyond the limit allowed by the race you plan to enter. For example, bikes in races sponsored by the International Cycling Union must weigh at least 15 pounds. Ensuring that your bike is as close to the minimum allowable weight as possible will help ensure that you compete on an even footing with the race's other entrants.
Unnecessary Components
One of the easiest ways to lighten a racing bicycle is to remove any components that are not absolutely necessary for the bicycle's function. For example, water bottle holders; front, rear and spoke reflectors; and chain protectors are all very useful components for a hobbyist. However, they add valuable ounces to the total weight of your bike, without contributing at all to your speed and efficiency. Those few ounces could make the difference in a competitive race.
Lighter Frame
Steel is a very common bicycle frame material; unfortunately, it is quite heavy. Aluminum is about 66 percent lighter than steel, although the fact that aluminum is also weaker than steel means aluminum bike frame components are wider than steel bike frame components, according to Circle City Bicycles. Aluminum components are only moderately more expensive than those made from steel, so substituting aluminum for steel components can significantly reduce your bicycle's weight without breaking your budget. Titanium and composite components are even lighter and stronger then aluminum, making them attractive options for competitive racers; however, they are also significantly more expensive than either aluminum or steel components.
Lighter Wheels
Swapping out either the bike tires or the entire bike wheel unit can also help save a significant amount of weight. For example, certain manufacturers now offer tires that contain no tubes, meaning they weigh less and have less chance of going flat, according to Western Bike Works. Additionally, you can select wheel units that are made from aluminum, titanium and similar light materials, much like frame components. You can also find wheel units with fewer spokes than a normal wheel, which also saves weight.
Custom Modifications
It is also possible to custom modify various components of your bike. However, you should use caution when making such modifications to avoid making a potentially dangerous change; for that reason, having a qualified bike shop make the modifications for you is wise. Additionally, you should be aware that making custom modifications to a bike or bike component will generally void its warranty. Potential weight-saving modifications include removing excess seat pipe, trimming bolt ends and even drilling small holes in the bike frame.