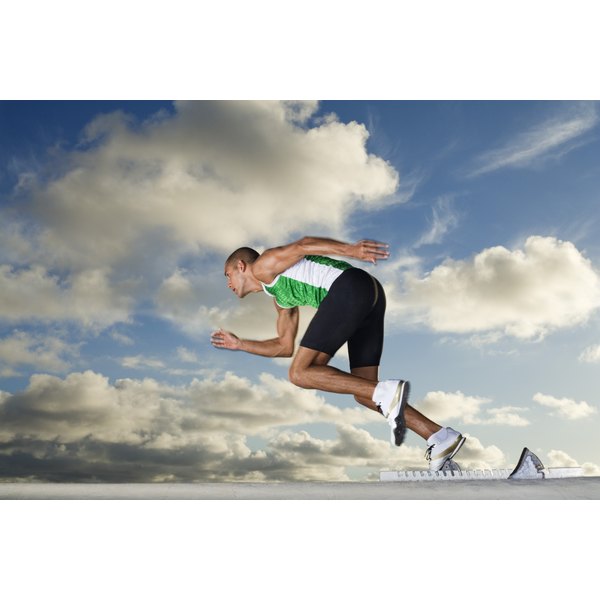 If you are a runner, you are part of a unique group of individuals who takes physical activity to the next level. The National Sporting Good Association estimates that more than 32 million Americans participated in running or jogging in 2009. Researchers have documented abnormal menstrual function in women. The question remains how does it affect men? The answer involves several factors, including mileage, age and the intensity of the exercise.
Mileage
High mileage for running is relative to the individual in terms of its effects. However, scientists have determined that a threshold exists that may explain its impact on testosterone. How long you run in a session affects testosterone levels. A study by the University of Melbourne in Australia, published in the September 1996 issue of the "British Journal of Sports Medicine," found that running at short durations of less than two hours increased testosterone levels. After two hours, circulation of testosterone was suppressed. A 2000 study by the University of British Columbia, published in the August 2000 issue of the "British Journal of Sports Medicine," supports these findings, noting a decrease when mileage exceeds 40 miles a week.
Age
Age plays another role in testosterone levels, especially when combined with duration of exercise. A study by the University of Pittsburgh, published in the August 1996 issue of "Metabolism," found that running between 15 and 60 minutes elevated testosterone levels in men aged 66 to 76 years. The key with this study and previously mentioned research lies in the duration. An inverse relationship then exists between mileage and circulating testosterone. In other words, the greater mileages may result in lower testosterone levels.
Intensity
The next question is whether or not intensity affects testosterone. Running is an intense activity when you compare it to other forms of exercise. A study by the University of Toledo in Ohio, published in the October 1999 issue of the "Clinical Journal of Sports Medicine," looked at the effect of intensified training and testosterone levels. Researchers found that training did not significantly alter testicular function after four weeks of training. They concluded that some degree of intensity may need to be reached before the effects become evident.
Resting Testosterone
If running can impact testosterone levels during activity, you may then wonder how it affects levels when not training as intensely. A study by Ball State University in Indiana, published in the February 1990 issue of the "International Journal of Sports Medicine," found that reducing mileage distance by 70 percent did not affect resting testosterone levels or levels when participants were not actively training. Researchers concluded that trained runners have low resting total testosterone levels. The question of running mileage and testosterone depends upon how much you run and your intensity.