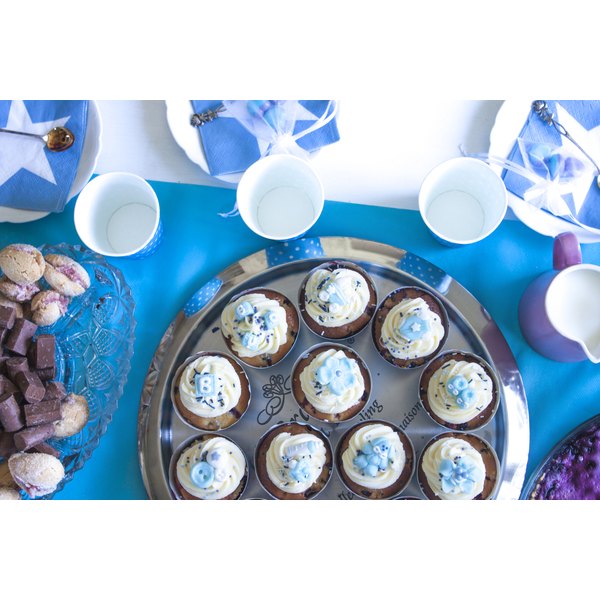 Save the cupcake for later if you're trying to shed pounds. Cupcakes are high in calories, fat and carbohydrates, none of which are desirable for dieters. Replace cupcakes and other nutrient-poor desserts with healthier options like fresh fruit and wholegrain products like muffins and quick breads. If you do decide to splurge, skimp on the icing to decrease the calorie content.
Trans Fat Content
Trans fat not only increases bad cholesterol levels; it also depletes healthy HDL cholesterol. Bakeries are prime locations for trans fat use, and cupcakes are certainly some of the most highly suspect foods. Trans fat is found in shortening made with partially hydrogenated oils, which is a common baking ingredient both in bakeries and home kitchens. In fact, Illinois bakery owners threatened to challenge a 2011 ban on trans fat use in restaurants if the legislation did not make bakeries exempt, as described in an article at Pantagraph online. Ask the owner of your bakery about their use of trans fat before you make cupcakes a regular treat.
It's All in the Icing
If your bakery serves its cupcakes with piles of swirly, sugary icing, you might want to skim off a bit if you're concerned about calories. Just 2 tbsp. of one popular icing brand contain 100 calories, 5 g of saturated fat and 14 g of carbohydrates, as well as 12 g of added sugars. You should limit your daily intake of added sugars to 24 g if you are a woman or 36 g for men, according to FamilyDoctor.org. That means that 2 tbsp. of icing could account for one-half to one-third of your total daily recommended intake.
Commercial or Fresh?
You might think that a fresh bakery cupcake is a healthy alternative to a commercial, processed, neatly packaged product. Both have their pros and cons, however. A 2007 story published at NPR.com explains how Diet Detective Charles Stuart Platkin discovered the true difference between gourmet bakery cupcakes and store-bought commercial products. His analysis produced interesting results; the bakery cupcakes were higher in both fat and calories than store-bought cupcakes. In fact, just one of these decadent bakery delights contained as much fat and calories as three slices of pizza.
Redemption?
There is not really any redemption for bakery cupcakes, besides the fact that many people find them tasty and irresistible. Even supposedly healthy, gluten-free cupcakes from all-natural food store chains contain as much as 480 calories and 13 g of saturated fat. Bakery cupcakes are probably not much better. In short, cupcakes should be an occasional treat, but in terms of nutritional value, they miss the count. Even the small amount of protein and fiber they might contain can't compensate for their high calorie and fat content.