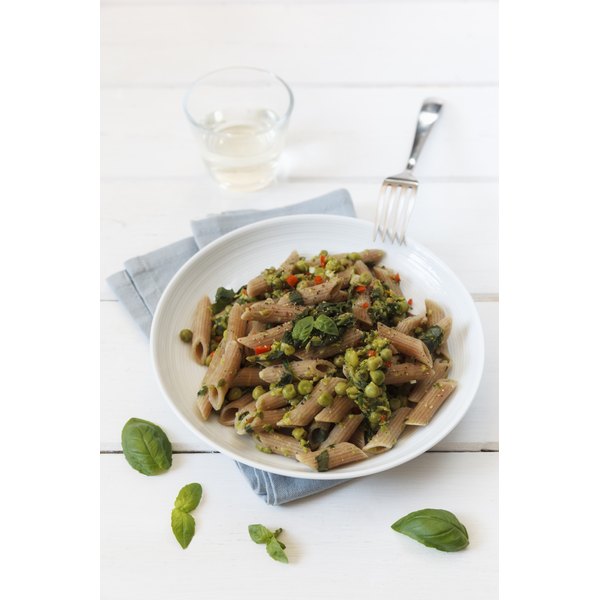 To lose weight, you must force your body to burn more calories than you consume each day. Replacing calorie-rich foods in your diet with healthier options, such as whole wheat pasta and spinach, will help you slash calories and encourage weight loss. Both whole wheat pasta and spinach are rich in dietary fiber, which keeps you feeling full for longer, reducing the urge to snack or eat unnecessarily during the day. Consult your physician to determine how many calories you should consume each day to encourage healthy weight loss. Track your calories from the whole wheat pasta and spinach to fit within the parameters set by your physician.
Drink a large glass of water 5 minutes before each meal. This will help fill your stomach and ensure you do not overeat. While whole wheat pasta and spinach are both healthy, eating too much of them can work against weight loss.

Replace sugary or fatty foods in your breakfast menu with meals that incorporate spinach or whole wheat pasta. Spinach can be sautéed with a small amount of olive oil, added to smoothies or added into omelets or scrambled eggs or egg whites. In addition, you can scramble eggs or egg whites with whole wheat pasta or serve it alongside sautéed spinach.

Introduce spinach wraps, whole wheat pasta and spinach salads, green spinach salads and spinach over whole wheat pasta into your lunch menu. If you need to bring a lunch to work, cold salads and wraps will retain the best flavor.

Add meals such as whole wheat pasta and spinach casseroles and whole wheat ravioli stuffed with spinach to your dinner menu. Dinner portions should be large enough to keep you feeling full until you go to bed to prevent late-night snacking. If you need a binding agent for your casseroles, opt for low-fat milk mixed with egg to cut calories. Creamy sauces or cheeses add a substantial amount of calories to any meal, working against weight loss.

While several recipes are available from cookbooks and websites, coming up with your own is simple. Cook the whole wheat pasta according to the package's directions and then combine it with the spinach and any other ingredients in your meal. Add a bit of seasonings, tasting as you go, until you are happy with the flavor of the dish. Once you find something you enjoy, write down what went into it so you can re-create it later.

Stick to seasonings rather than sauces or cheeses to flavor your meals for the least amount of calories. Simple seasonings such as salt and pepper, vinegar, soy sauce or nutmeg will accent the flavor of both whole wheat pasta and spinach.

Tip

Add healthy ingredients, such as egg whites, tomatoes, bell peppers and whole wheat breads to flesh out your whole wheat pasta and spinach diet. Speak with your physician about taking a daily multi-vitamin supplement to ensure your body is receiving adequate nutrients.