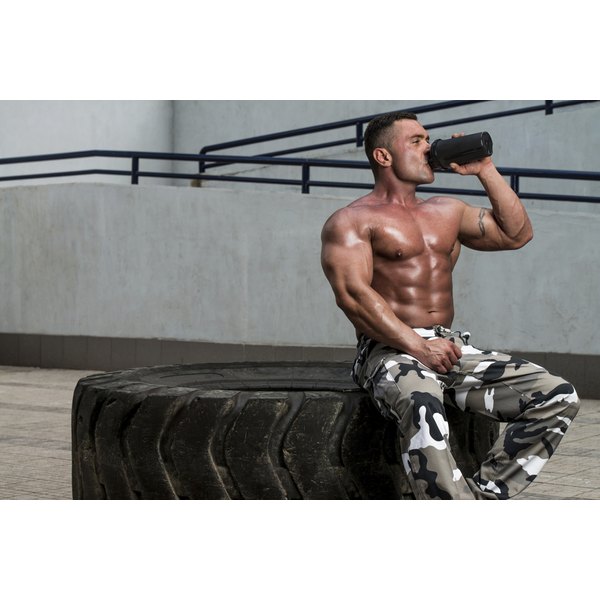 Although nutritional supplements such as Dymatize Nutrition's ISO-100 are intended to promote health benefits, you may experience side effects from using them. One side effect you may experience from using Dymatize ISO-100 is diarrhea, but not everyone will experience this effect. Consult a medical professional before taking any nutritional supplements.
What is Dymatize ISO-100?
Dymatize ISO-100 is a low-calorie protein powder marketed as a sports nutrition supplement. Dymatize ISO-100 is made from whey protein isolate, a milk derivative. Whey protein isolate is rich in protein may which aid in exercise recovery. Research published in the June 2010 issue of "Nutrition & Metabolism" indicates that whey protein may be more effective than other types of protein at stimulating muscle protein synthesis, which drives muscle growth and recovery.
Will Dymatize ISO-100 Cause Diarrhea?
Anything you ingest has the potential to upset your stomach and prompt diarrhea, and Dymatize ISO-100 is no exception. Dymatize ISO-100 may be more likely to promote diarrhea because it contains whey, a dairy product. All dairy products contain lactose, a naturally occurring sugar. If you are lactose intolerant, consuming dairy products can cause diarrhea, upset stomach, bloating and other adverse effects. However, whey protein isolate contains lower levels of lactose than other dairy products, such as whey protein concentrate, so this product may pose less of a risk of diarrhea than other protein powders.
How Can I Limit The Risk of Diarrhea?
To limit the risk of diarrhea, you can mix Dymatize ISO-100 with water rather than milk, as water would not provide additional lactose, while milk would. You can also avoid consuming high-fiber products or magnesium supplements in conjunction with Dymatize ISO-100, as both may promote an increased chance of diarrhea.
Dymatize ISO-100 Nutritional Value
If you aren't sure whether using Dymatize ISO-100 is worth the risk of diarrhea, consider the nutritional characteristics of the product. Each scoop of this product contains 106 calories, with 25 grams of protein, no fat and no carbohydrates. If you already get enough protein in your diet, you may wish to consume other foods in place of Dymatize ISO-100. If you do need more protein but don't want to take Dymatize ISO-100, lean protein sources such as egg whites, chicken breasts and beef jerky may be appropriate substitutes.