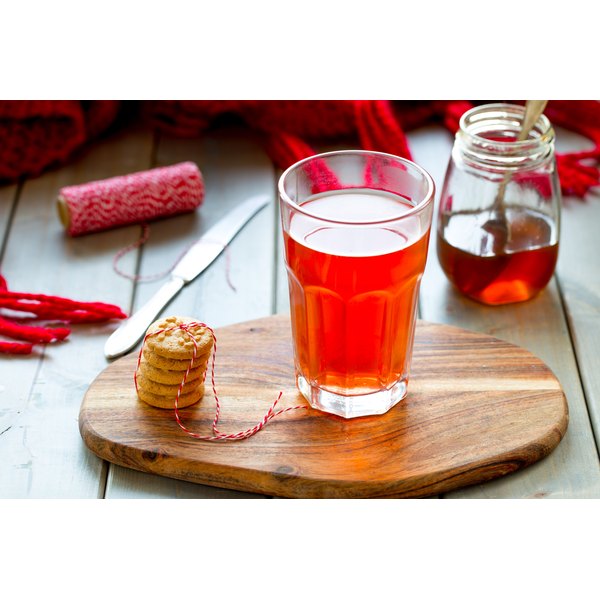 African rooibos is a flowering member of the pea family specific to the red bush belt in the Western Cape province of South Africa. Although it is harvested to make herbal tea, rooibos does not contain the same level of tannic acids as black, green or white teas. Similarly, it is void of caffeine. The herb does demonstrate antioxidant properties, which mean it may help prevent or slow oxidative damage in the body, but there is no evidence that rooibos tea has any affect on kidney disease. If you have a kidney disorder, consult your physician before using this herb therapeutically.
Description
Aspalathus linearis, the botanical name for rooibos, is known by several common names, including bush tea, red tea, South African red tea and rotbusch. Once harvested, the leaves are cut and moistened and left in piles to "sweat" for several hours, a process that allows the phenolic compounds in the plant to oxidize. The result is a red, somewhat sweet-smelling material that is then spread into thin layers and dried in the sun. Green rooibos tea is also available, which is unoxidized, usually more expensive and imparts an earthier flavor than red rooibos tea.
Traditional Use
African rooibos tea is used in traditional medicine to ease infant colic. Adults consume the tea as a tonic; it is also applied topically to help clear acne, eczema and other inflammatory skin conditions, according to the Physicians' Desk Reference for Herbal Medicines. Use of the plant to specifically address kidney dysfunction is not documented, but the antioxidant activity of compounds in the herb may inspire some individuals to drink the tea as a general health beverage.
Chemical Composition
Flavonoids are antioxidant compounds found in plants. Rooibos contains various flavonoid glycosides, including quercetin. The plant is an abundant source of antioxidant polyphenols and, according to a review published January 2007 in "Phytotherapy Research," is a rare dietary source of a class of flavonoids, called dihydrochalcones . The most active compounds are aspalathin and nothofagin, which demonstrate strong antioxidant and antimutagenic properties in cultured cell tests and show antioxidant, immune-stimulating and anti-cancer actions in animal studies.
Physical Effects
A study published in "Nutrition and Cancer" in May 2011 reports that unoxidized rooibos tea demonstrates moderate anti-tumor effects in mice with chemically-induced esophageal squamous cell growths. According to a study published in "Phytomedicine" in March 2011, rooibos lowers serum triglycerides and cholesterol, most likely by activating an enzyme known as AMP-activated protein kinase. In a 2010 study published in "Research in Sports Medicine," scientists tested blood and urine samples of college wrestlers given rooibos tea to counter acute dehydration, but found the tea no more hydrating than plain water. Further clinical studies on rooibos in humans are limited, none of which investigate or evidence effects on the kidneys. However, an article published in the Pacific College of Oriental Medicine alumni newsletter in 2007, notes that rooibos tea is beneficial for people prone to kidney stones because it is free of oxalic acid.
Safety Precautions
There are no reported adverse health affects from drinking African rooibos tea; however, this herb has not been studied extensively. It is not known if rooibos is harmful during pregnancy or interacts with other drugs. To be safe, avoid the herb if you are pregnant or nursing, if you take other medications or if you have a history of a chronic disorder, including kidney disease.